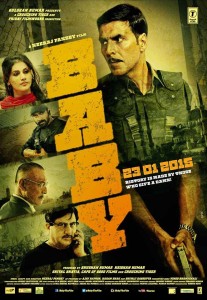 One of the most critically acclaimed movies of 2015, Baby which is running to packed theatres has garnered a total of Rs. 87.27 Crores in just 16 days.
The film collected Rs. 1.31 Crores on Friday and Rs. 1.56 Crores on Saturday and continues to march forward even in its 3rd week.
The first look poster of Baby had Akshay Kumar in an action avatar, a heavy imagery and unusual title, which set the tone of the movie and generated curiosity value. The Teaser had already made Baby count amongst the most-talked about films on social media platforms.
The teaser, aptly titled 'Baby Sizzle' went viral in just a few minutes from launch. Seeing the excitement for the launch of the first look by fans, Akshay Kumar himself tweeted the teaser of the movie. Akshay Kumar as we all are aware has several fan clubs pan India and across the world who demanded to have a look at Baby as they were very excited for it, we hear the Baby team specially cut a short teaser for everyone to have a look at it.The action-packed teaser takes the viewer behind the scenes and gets the viewer close to the pace and adrenaline of the film.
The mutual respect and friendship that developed during the making of Special 26, led to Akshay becoming Neeraj's first choice even when he was scripting Baby. The result was one action-packed ride while making the film. The shooting of the film spanned far and wide, from Kathmandu and Istanbul to Abu Dhabi, Mumbai and Delhi.
Clearly the verdict is out, people have loved and enjoyed the film and seeing their very own actor in an action packed hard hitting avatar again!
DATE
DAY
Figures (in cr)
23rd Jan

Friday

9.3
24th Jan

Saturday

11.17
25th Jan

Sunday

15.6
26th Jan

Monday

14.9
27th Jan

Tuesday

5.1
28th Jan

Wednesday

4.25
29th Jan

Thursday

3.5
30th Jan

Friday

2.85
31st Jan

Saturday

3.99
1st Feb

Sunday

5.81
2nd Feb

Monday

2.20
3rd Feb

Tuesday

1.92
4th Feb

Wednesday

1.94
5th Feb

Thursday

1.87
6th Feb

Friday

1.31
 7th Feb

Saturday

1.56
Total
Rs. 87.27