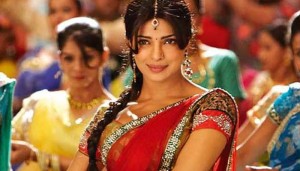 With the amount of movies and different types of roles Priyanka Chopra has played it was only a matter of time that something would come her way and challenge her.
Sanjay Leela Bhansali's upcoming movie Bajirao Mastani is making Priyanka work hard. The movie is also stars Ranveer Singh and Deepika Padukone based around love where Ranveer Singh plays Maratha Peshwa Baji Rao, Priyanka Chopra plays Kashibai (first wife) and Deepika Padukone plays Mastani (second wife).
We can only imagine how draining this film must be if Priyanka has taken to twitter expressing herself saying, "Didn't even realise how tired I was till I touched my bed. Bajirao Mastani is so intense that I'm depleted! Kashi is one of my hardest parts!"
Let's hope Priyanka eases into her character as shooting continues on as we're sure she'll pull through and deliver greatly.