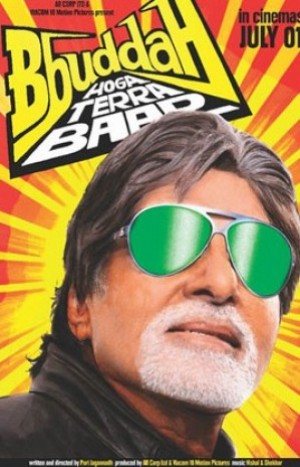 Bbuddah Hoga Tera Baap sees one of the biggest names in Hindi cinema, namely Mr. Amitabh Bachchan teaming up with one of the biggest names in Telugu cinema, Puri Jaganath. For those who are not aware, Puri is the man behind the nationwide hit Pokirri or as most of you know it as, Wanted.
The promos of Bbuddah Hoga Tera Baap are already making waves in the media and with fans so let not waste any words on the fate of the movie and let's get on with the music review.
Vishal-Shekhar (I Hate Luv Storys) are responsible for the music of Bbuddah Hoga Tera Baap while the lyrics have been penned by Anvita Dutt Guptan ('Sadka' – I Hate Luv Storys), Vishal Dadlani ('Sheila Ki Jawani' – Tees Maar Khan) and Swanand Kirkire ('Behti Hawa Sa Tha Who' – 3 Idiots). The album is made up of 5 songs and features of talents of Sunidhi Chauhan ('Sheila Ki Jawani' – Tees Maar Khan), Abhishek Bachchan and Amitabh Bachchan.
Bbuddah Hoga Tera Baap also stars Raveena Tandon, Sonu Sood and Hema Malini. It hits cinema screens July 1st 2011.
The first promo of Bbuddah Hoga Tera Baap gets down to business straight away and tells the audience that it will be a masaledaar fare. However, the soundtrack gets off to a very soft and sweet start with Haal-e-Dil. It is a slow yet beautiful love song rendered by Mr Amitabh Bachchan. If you like 'Rozana' from Nishabd and 'Main Yahan Tum Wahan' from Baghban, you will love this number. It is sung extremely well by Mr. Bachchan with Shekhar Ravjiani's ('Jogi Mahi' – Bachna Ae Haseeno) and Monali's ('Anjaana Ajnaani – Title Track') vocals cleverly interspersed throughout the number. The song is definitely one of Vishal-Shekhar's most brilliant compositions till date. Anivita and Swanand have penned equally brilliant lyrics. In short, it is just a magnificent track.
The album picks up with the acapella version of the Title song, also sung by Mr. Bachchan. Music is decent enough, but it is the lyrics of the song (Vishal Dadlani) and how Mr. Bachchan delivers it that makes the track a winner. The song reappears, this time named the Dub Step version. This version, is a remix of the first if you will, with Vishal Dadlani lending some rap here and there. It is very trendy and oozes a lot of style and attitude. At the end of the day, both tracks are equally good.
Next is, Go Meera Go, an awesome medley of key Bachchan numbers, namely 'Khaike Paan Banaraswala' (Don), 'Ke Pag Gungroo Bandh Meera' (Namak Halal), 'Rang Barse' (Silsila) and 'Saara Zamana' (Yaarana). There is a twist though. All have been re-sung by Mr. Bachchan in what can only be described as remix on crack. Kudos to Vishal-Shekhar for that adrenalin-soaked composition. The track also features the rapping talents of Abhishek Bachchan, in the same line as 'Thayn Thayn' (Dum Maaro Dum) and 'Right Here Right Now' (Bluffmaster). It is a cool and clever number, possibly a promotional video or a cameo song for Abhishek.
The album ends with Chandigarh Ki Star, an item number picturised on Raveena Tandon. It is rendered the wonderfully cool and sexy Sunidhi Chauhan. An out and out Punjabi number, it is fast paced and Sunidhi owns it, naturally. Vishal-Shekhar have churned out great numbers with Sunidhi, 'Lucky Boy' (Bachna Ae Haseeno), 'Sheila Ki Jawani' (Tees Maar Khan) and 'Deedar De' (Dus) to name a few and 'Chandigarh Ki Star' is no exception.
In summary, Bbuddha Hoga Tera Baap is quite a short album but it packs a punch, whether it be the emotionally charged 'Haal-e-Dil' or the unapologetically-awesome title track. 'Go Meera Go' and 'Chandigarh Ki Star' also hold their ground. Definitely give this one a go.