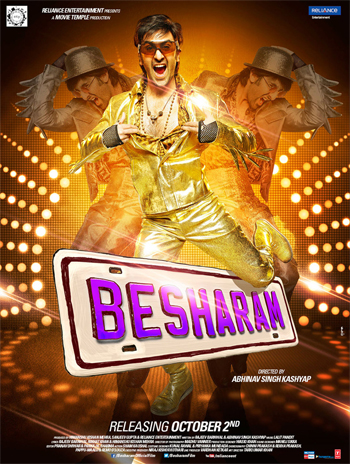 Ranbir Kapoor has managed to earn a reputation as an actor who has the knack for selecting some really interesting and out-of-the-box scripts. It's no wonder then that his latest, Besharam, directed by Abhinav Singh Kashyap has been one of the highly anticipated movies of the year. Kashyap, who last gave us the very entertaining Dabangg, had also managed to raise everyone's expectations from the film. Add to that the casting of the three talented Kapoors and you expect nothing less than the best from this film. Does this move though manage to deliver on the expectations?
Besharam draws heavily from all formulas known to Bollywood and uses them back to pay a 'tribute' to the classic Hindi movies. It's no wonder then that the story is wafer thin with hardly anything to go on. Babli (Ranbir Kapoor), an orphan, is a car thief who is in this line of business only to feed him and his fellow orphans. His friend Titu (Amitosh Nagpal) is his partner in crime. Dressed as Men In Black (and calling themselves the Terminators), they steal cars and sell them without disdain, frolicking in clothes that seems straight out of Govinda movies in their spare time. Until Babli meets Tara (Pallavi Sharda). She is the beauty he wants to make his friend's bhabhi but she rejects the proposal of the sadak chap romeo (understandably so.) Babli however is totally besharam. When he accidentally does something to hurt Tara, he uses the opportunity to not only make it right but also win her over. Meanwhile adding to his woes are the Chautala police couple, Chulbul (Rishi Kapoor) and his wife Bulbul (Neetu Kapoor), who are hot on his heels.
The story is nothing exceptional and it looks like the director didn't even try. Add to that a lot of mediocre songs and you wonder if this is what the Kapoor's actually signed up for. Abhinav's direction seems pretty average and that is really disappointing considering Dabangg showed that he has much potential. There are scenes which are quite funny but these are scattered in between and that's a shame with all the talent he had managed to gather for this movie. There is action, drama, romance but sadly no emotions. And the soul of Bollywood movies is emotions. Dabangg had abundance of emotions –father-son conflict, mother-son love, misunderstanding between the brothers. Besharam sadly lacks this. Forget everything else, even the romance seems insipid and bland. This is the first movie where the Kapoor father-mother-son trio is together but sadly Abhinav does not use this to his advantage. What we get to see are just a couple of scenes with them together. It is pretty evident from the dialogues and the screenplay that the director relied heavily on the actors to deliver the movie.
Speaking of performances, Ranbir Kapoor is the saving grace of this movie. With his Ajab Prem Ki Gajab Kahaani style energy and his romeo style, Ranbir manages to make even the silly jokes funny. It is only Ranbir who can manage even crass crotch jokes and toilet humor with ease. True he doesn't have much to go on in the first place but boy! does he manage to make the maximum out of it. And yeah, with his first out and out masala movie, he gets to do dishum-dishum too. Plus there is the added tribute to a particular Saawariya scene which will make all the ladies blush. Rishi and Neetu need no introduction and play the loud couple with ease. Their constant fighting and bickering manage to bring a few laughs to the movie. Pallavi is confident but sadly has nothing much to do rather than scowl and be angry. It may be too early to judge her but her performance in the movie didn't create any sparks nor was there anything striking about her. Amitosh is a delight to watch for and Javed Jaffery does his usual.
Abhinav manages to keep Ranbir in almost every frame of the movie and not without reason. The movie rides on him and him alone along with the added performances of the sub cast. If you are a Ranbir fan do watch it. If you like over the top masala movies, do watch it.