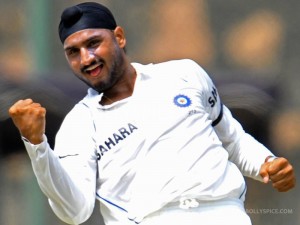 Indian off-spinner Harbhajan Singh will be making his acting debut in Akshay Kumar's Punjabi film Bha Ji In Problem. The film is produced by Akshay Kumar and Ashvini Yardi's company Grazing Goat Pictures.
Details of what exactly is Bhajji's role in the film have not yet been revealed but it's a rather interesting cameo. The producers are also tight lipped about the scene in which he will feature and the lines he will deliver but one thing for sure is that Bhajji will be seen returning to his Punjabi roots and his performance will be no less than a visual treat for his fans.
Bhajji will be filming with Punjabi actors Gippy Grewal and Gurpreet Ghuggi amongst several other big names such as Om Puri in Chandigarh, just before the start of the IPL-6. Speaking about Bhajji's cameo, Ashvini Yardi said, "We're absolutely delighted to have one of the world's best known Punjabis feature in our film Bha Ji in Problem. It's too soon to unveil anything at this stage, but all I can say is that Bhajji's fans are going to be bowled over by his performance."
Bha Ji In Problem will be Grazing Goat's foray into Punjabi cinema after starting with Hindi cinema (OMG! Oh My God) and Marathi cinema (72 Miles and Adhantari).