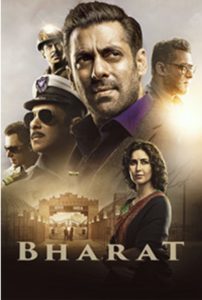 The trailer for Bharat ends with the line "Desh logon se banta hai, aur logon ke pechan unki pariwar se hoti hai" delivered by Jackie Shroff to his son Bharat in a flashback. This seems to be the key motif to this year's Eid thriller for the masses, Bharat, starring Salman Khan, Katrina Kaif and Disha Patani. With this line, all that came in the previous 2:40 of the trailer boils down to 1 man, 1 country but it's obvious that director Ali Abbas Zafar will be taking audiences on a fast-paced ride filled both with pride and power. Julius Packiam and Vishal-Shekhar come together to deliver an all-round score for this epic story spanning the history of both Bharat the man and Bharat the country based on the South Korean story "Ode to my Father".
The album opens in Slow Motion as Salman and Disha Patani dance to a slow motion rock song sung by Nakash Aziz and Shreya Ghoshal. This is a fun look at a lot of Bollywood tropes, while keeping the feel modern and alive. The predictable changes of speed make for an interesting vibe throughout and the singers are more than capable of matching it all up. This is likely to be the fun number of this album but it's value as a story element can't be disregarded.
The next song, Chashni, is in 2 parts with Abhijeet Srivastava and Neha Bhasin taking male and female perspectives of this silken love song. A slow, even rhythm is to be found in both with a kick for the chorus line to separate it. A light breezy melody with earthen tones in rhythm and no real sense of a beat give this song easy passage through the listeners senses. The heavily Punjabi lyrics though are given plenty of chance by the singers who override the instruments but no fluency in the language is really required. In its way this is comparable to 'Jag Ghoomeya' from Sultan but its flow just leaves a different taste.
Aithey Aa brings out the dichotomy at the heart of Bharat's story… "1983 – India World Cup jeet raha tha, par Bharat apna dil har raha tha". Akasa, Neeti Mohan and Kamaal Khan bring a female led flirting song where Katrina Kaif takes charge of wooing Salman over in both a classic style but firmly modern way. The music reflects this well being best described as "hip-hop harmonium". Yes, this is girl power all the way but with a style uniquely Indian. The other version of the song is a reversal of this as the Dance Version returns to modern club roots with a male version starring Nakash Aziz alongside Neeti Mohan in what is a more traditional methodology for Bollywood.
All the love sorted, the album moves onto Zinda. Vishal Dadlani takes to the mic to deliver a powerful rock song. Electric guitar, repeated lyrics and western drum kit make this song sound more like something done by his pop band rather than anything in Bollywood but no show of power would be complete without a hard rock tune to back it up!
And where there is strength, power and patriotism, there is Sukhwinder Singh. So the next song is a Sukhwinder special Turpeya. For those who can't tell from the Navy outfit or the exotic locations, the title refers to being "on tour" so this song is both message to home and a fun look at the world. Both forgettable and yet very enjoyable.
Continuing the patriotism is Jyoti Nooran's song Aaya Na Tu next on this album. A heavy drum beating out a powerful military rhythm often overrides her deep near bass tones. Once this is replaced by tabla to improve the audience's chances of understanding the lyrics, this is a sad song with love themes (not a sad love song!). As with all Sufi, its length means it gets repetitive but still finds a heartfelt anguish.
Finally Sukhwinder is back for what is likely a background song to some daring on-screen feat Thap Thap. Once again Salman is playing to his Eid audience with this song bringing back the brilliance of Sultan with both quiet power and persistence.
Bharat is a story of an ordinary man journeying from an 8-year-old in 1947, through an extraordinary life to being a vigilante in 2019. Each part of the journey is extraordinary in itself; whether that be fleeing a closing border, performing daredevil acts in the Russian circus, working on an oil rig in the Middle east or fighting as part of the Indian navy. For this, the album that represents it must be able to bring to light each part and briefly show off the ordinary nature of the man at the centre but also the extraordinary effect he has on the people around him which make his story so great. The first half of the album could be said to be doing this, but something falls away in the second half and it loses a lot of the power and emphasis that it gained with such a strong start.