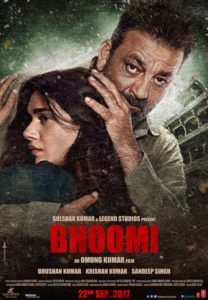 One of the latest Bollywood OSTs to release, is the soundtrack of the upcoming film Bhoomi. The film marks an important comeback for actor Sanjay Dutt, who plays the role of a doting and protective father to his daughter, played by actress Aditi Rao Hydari. The film has been directed and co-produced by Omung Kumar (Mary Kom, Sarabjit), and will release on 22nd September. The soundtrack to the film has been composed by Sachin-Jigar who have been almost giving back to back releases this year (Meri Pyari Bindu, A Gentleman), with lyrics by Priya Saraiya, Vayu, Utkarsh Nathani and Anvita Dutt so let's see how the music of Bhoomi turns out!
The album opens with a typical club track, Trippy Trippy which has Neha Kakkar and Benny Dayal on the vocals, with rap parts by Badshah. There are extra vocals in the song by Brijesh Sandaliya. It seems that singer Neha Kakkar definitely has a Trippy connection with this particular word, as she earlier sang Trippy for Himesh Reshammiya on the Aap Se Mausiiquii album. This particular track will only grab listeners attention, if they are fond of this club style music genre, as it does have an overall repetitive sound. Sadly, the song does not have a lot to offer, but no doubt will become a popular party track!
Just like on the A Gentleman soundtrack with 'Baat Ban Jaaye,' Sachin-Jigar seem to give the title of a song in such a way, that makes you think it is a cover, when infact it is not. Same thing happened with the second track on the Bhoomi OST,  Lag Ja Gale! It is a romantic number with Rahat Fateh Ali Khan on the vocals and has been set against a breezy and light melody, which is romantic and pleasing to the ears.
The third track is the upbeat Will You Marry Me which seems like it is a song that is most definitely catered for the youth of today. Popular playback singers Jonita Gandhi and Divya Kumar both feature on the vocals, and Jonita's vocal style is similar to her style in 'Chandralekha' from A Gentleman. The listener gets to hear a relatively different approach of both Jonita and Divya's vocals as they sing in half-rap style, with humorous lyrics. The song is quite catchy and has the potential to grow on you after a couple of listens.
The fourth track Kho Diya, presents a real shift in the album as it is a semi-modern classical one! Sachin-Jigar are not known for giving these kind of songs and even though Sachin croons the track (in a very Arijit-esque style), it does feel a little out of place on the soundtrack as the previous tracks are very modern and different.
The fifth track is Daag which has been sung by Sukhwinder Singh, and it is always wonderful to hear a familiar voice on a new soundtrack. 'Daag' is a slow and haunting number, which ties together the storyline of the film.
The sixth track of the album is a religious one titled Jai Mata Di and features Sanjay Dutt himself, on the intro vocals of the track. The main vocals are sung by singer Ajay Gogavale who is one of the popular music director duo Ajay-Atul (Agneepath). As far as religious Bollywood music goes, this track is sure to become popular as the film releases.
One thing I have noticed when listening to a Sachin-Jigar soundtrack, is that you will definitely be listening to original compositions, and not just songs which have multiple versions or are recreated tracks. However when it comes to consistency, it is still difficult to like all the songs from one soundtrack. My picks from the OST are 'Lag Ja Gale' and 'Daag'.