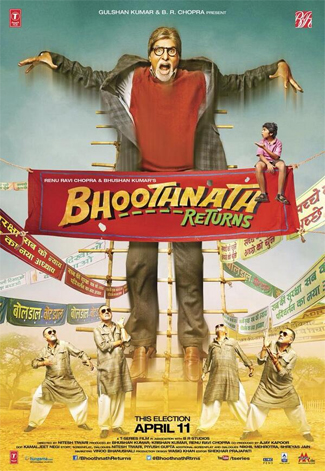 Continuing with the trend of original concepts coming out this year, Nitesh Tiwari's Bhootnath Returns has a very relevant theme which will touch a lot of people's chords.
Bhootnath (Amitabh Bachchan) has just returned to Bhootworld after his stint on earth. Waiting to be reborn again he finds that he has become a butt of everyone's jokes after failing to scare a little kid (Banku from Bhootnath). Vowing to get his respect back, Bhootnath returns to earth to scare a couple of kids. That's when he meets Akhrot (an amazing Parth Bhalerao), a pocket sized Dharavi kid with giant heart. When the dirty politician Bhau (Boman Irani) looks set to win the elections yet again, Akhrot decides that the best opposition candidate would be Bhootnath, who – like he says – is a good guy and cannot be killed! From here starts the faceoff between the good guy/bhoot and the bad guy.
At a time when the elections and the contestants have been in the news nonstop, Bhootnath Returns raises some very valid and genuine points. And this would have been a strong point for the movie if not for the fact that the execution is poorer than the concept. Being touted as a children's film, the movie becomes too serious and preachy for them to enjoy. The first half of the movie is very enjoyable with the nonstop bantering of Bhootnath and Akhrot. It's when the second half starts that you feel that the movie is losing its pace and the build up which it had set.
No doubt that every single point raised in the movie is valid but Nitesh unfortunately ends up using the age old concept of long monotonous sermons by the hero to put this forth. Nevertheless, the genuine performance by the lead actors makes this a pretty enjoyable fare. Amitabh as Bhootnath is just what you expect him to be – being a veteran actor you know that there is no chance he can get his performance wrong. The best part is that in spite of being a superstar he lets the kid take the center stage. Speaking of whom, Parth as Akhrot is just too endearing. His chipped tooth smile and his 'Bambaiya' tapori language add to the charm of his character. Boman plays a character very similar to Lucky in Lage Raho Munnabhai and sometimes seems OTT but then that's how his character is – and like Akhrot says "India main over acting jarrori hai"!
Yes, the movie does tend to drag but then it has its heart in the right place. One of the few unpretentious movies to come out of Bollywood, I would recommend you catch this movie at least once.