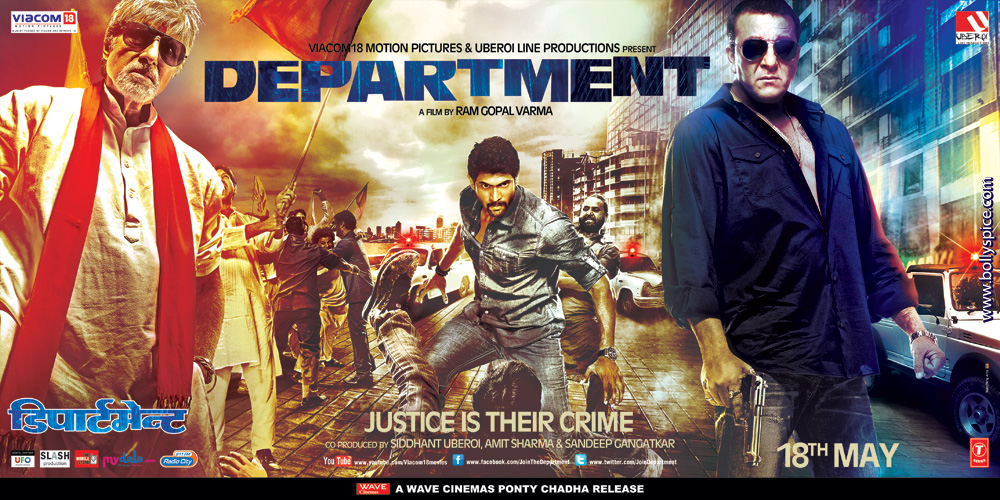 Ram Gopal Varma's Department is creating waves at the moment. Due for release this coming Friday, it stars Amitabh Bachchan, Sanjay Dutt and Rana Daggubatti in key roles. The film focuses on an elite group of encounter specialists working within the Mumbai Police force to eliminate the underworld. Here's what the director and actors have been saying about the film in the lead up to its release.
Ram Gopal Varma – Director:
Department is a hard hitting action drama and I wanted to apply a completely new language of cinema in terms of both its camerawork and editing. I haven't used any lighting while shooting Department…It was shot in 80 days, by six 20-year-old still photography and visual effects students who had never set their foot inside a movie set
It has been shot in multiple formats with 5D, 7D Lumix Gopro Sony Nx5 and 60D… each camera was used for its own uniqueness in capturing a shot. I have used 5-6 cameras, not to cut costs as people believe, but to shoot my characters in angles and positions not seen before in films.
Stay tuned we will have more from the Director in our interview with him coming up soon!
Amitabh Bachchan – Sarjerao Gaikwad, a gangster-turned politician:
The voice you heard in the trailers of Department is a result of cough and cold. The day shooting started for the film, I had a bad cold and this was the kind of tone that came out of my throat and I had to shoot with it. Then Ramu (Ram Gopal Verma) said this is the voice which suits my character.

T 741 - At times on 'Department' you became your own cameraman, carrying the 5D in your hand, and enacting as you walked around in the scene

— Amitabh Bachchan (@SrBachchan) May 12, 2012
T 741 - Working with the 5D camera on 'Department' revolutionary..at least for artist..6-7 cameras around you and not knowing where they are

— Amitabh Bachchan (@SrBachchan) May 12, 2012
Rana Daggubatti – Inspector Shivnarayan, a rookie police officer
It is a classic police drama based at a time when the Mumbai mafia is at its peak and a separate department is being created to tackle the menace. I am the new recruit while Sanjay Dutt is a senior officer in the force and Amitabh Bachchan plays a politician.
There is everything good about this film. The subject, police drama, is something I am comfortable with, in fact, I have been wanting to work in for a long time.
Department releases worldwide on Friday 18th May 2012