Bipasha Basu is currently in the UK as part of Bollywood Showstoppers, which has already seen her take to the stage at the Birmingham LG Arena alongside Malaika Arora Khan, Atif Aslam and Shaan. The extravaganza that is Bollywood Showstoppers is getting ready for the biggest show yet which is set to take place today at London's prestigious O2 Arena.
In between rehearsals the stars took some time out to speak to the media in London as part of a press conference. After the press conference we caught up with the beautiful Bipasha Basu for a quick chat about the show, her movies and staying fit.
You are going to be performing alongside your favourite singer Atif Aslam, which is your favourite song of his?
'Kuch Is Tarah', yeah I just love listening to that. And yes, 'Pehli Nazar' from my film, Race (laughs).
Which song are you most looking forward to performing as part of Bollywood Showstoppers?
I am looking forward to performing my most favourite song of my entire career that is 'Beedi' (Omkara). So that is something I am really looking forward to.
We have been avidly waiting for your Hollywood debut in the film Singularity, when is the film set to release?
Even I have no idea. We are working on the post-production because it is an epic war film; it is taking a long time in the post-production. Everything is done so now it's all about the post and then we get the film.
For your Hollywood debut you are going to be seen alongside Josh Hartnett, which other Hollywood actor would you love to work with?
Brad Pitt for sure, I am very loyal to my choices and I have always been the biggest fan of Brad Pitt. It would be Brad Pitt for sure.
You tend to take on roles that are out of the box. What makes you go for different roles rather than the 'normal' roles Bollywood actresses take on?
I am a very regular girl, I come from a very regular family, I've never really changed. But my profession gives me the freedom to be somebody else, somebody that is not me and it's quite exciting.
It's only sad that in Bollywood we don't write such strong, interesting in-depth roles for woman. We always treat them as accessories, we always treat them, as okay she has to dance and look pretty. We have to be with the hero, the hero has to save us. It's a very typical strong stereotype I think all my contemporaries and me are apart of, but at the same time we want to fight against it and want to do something out of the box.
So I kind of keep on looking for roles that excite me that will want to bring me to set, because we all know that fine, you can look pretty, you can look good, but besides that when you are an actor there is always an urge to do something else.
As an actress who stars in many female centric roles, in films such as Corporate, why do you think female centric roles have come back into fashion now with the popularity of films such as The Dirty Picture?
It has not come back, it is just a phase, every time we did a Corporate or a Jism or any of my films which were steered by a woman, it was always said ok it's great times for women but on and off these films come and go. There will be one Chameli, one Aitraaz, there will be one Corporate, one Jism. It just comes and goes.
Dirty Picture and Kahaani came back to back and I think it is wonderful for Vidya as an actor. She had a lot of struggle, but she has had it pretty good now because people are writing roles for her but the rest of the contemporaries are still in the same place. It's not that every single actress is getting the super fab roles. We are still looking pretty, wearing great clothes, and looking sexy and glamorous. That is what we are known for. It's not bad but it is not something that is going to keep you here forever and ever, it's something that is just very momentary.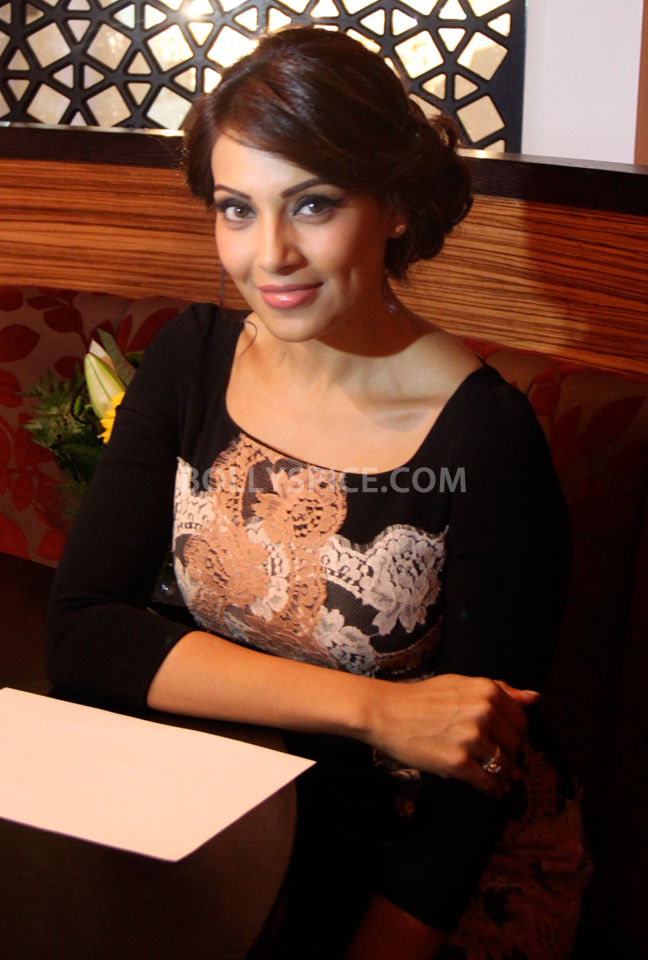 You are known as a fitness enthusiast, why is keeping fit important to you?
I think if you are not fit you are not going to really enjoy anything in life. You are not going to enjoy your career, the money that you make or the fame that you have. If you have no health there is absolutely no point in living. It is absolutely pointless.
As someone who has a number of fitness DVD's out, what main tips would you give for keeping fit?
The important thing is that you have to love yourself. If you don't value the body that you are born with it's actually kind of difficult to teach people how to start getting fit.
People have to understand the difference between fit and thin. It is very important because generally most of the women, you know, they just don't want to understand that there is something which is called being fit and there is something called being thin. And people take on too many shortcut practices just to become thin. So I am trying to preach and talk about fitness mostly and I don't talk about anything that is a short cut. You cannot get fit in a week it is not possible. You can do crash causes, crash diets and you can become unhealthy and skinny, but that is not what I preach. It is very important to know are you investing in your health the right way or not?
I believe you need to keep yourself active because nowadays jobs are very sedentary. You could do anything, play a sport go to the gym, swim, do anything, yoga, there is so much to choose from, Pilates, do my DVDs (laughs), anything. Anything, something for yourself.
Finally, you have a great eye for fashion what does fashion mean to you?
I guess I have been a model so fashion is definitely something I am very interested in.
In terms of when you are talking about being apart of the film industry nowadays there is a very thin line between fashion and films. You are kind of being role models to so many people. So you have to be a little bit up to date. We have fantastic stylists and designers in our country and we are very open to international designers now. Fashion is something that is a very imperative part of our business, but for me as a person it is more about comfort, and it is about suiting your personality. Like I really don't care about the fashion police, they can say 'Bipasha wears very fitted dresses because she has a good body', I am going to continue wearing them, it doesn't matter I am not going to change!
Bipasha Basu is set to perform alongside Malaika Arora Khan, Atif Aslam and Shaan at The O2 Arena in London on Sunday 7th April, as part of the four-hour spectacular show Bollywood Showstoppers.