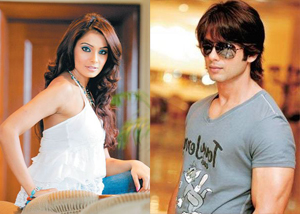 Ever since Shahid Kapoor broke up with Kareena Kapoor in 2007 he has been linked to stars such as Vidya Balan, Sania Mirza and more recently Priyanka Chopra.
If rumors are to be believed the new lady in Shahid Kapoor's life is none other than Bipasha Basu! According to a source Bipasha Basu has been raving about a new man in her life. The source told the media, "For over a month now, Bipasha has been talking about a very sweet guy in her life. She's been telling friends that he's an eligible young man and has been showering her with gifts and some much-needed attention."
Although the actress has not revealed the name of the new man in her life sources claim it is indeed Shahid Kapoor. The Bollywood actress was recently spotted at a small party Shahid held at his newly renovated home. Only a handful of stars, such as Sonam Kapoor, Anushka Sharma, Karan Johar, Ayesha Takia and husband Farhan Azmi, attended the party.
Shahid Kapoor and Bipasha Basu have only worked together on the 2005 film Shikhar, which also starred Ajay Devgan and Amrita Rao.