Bollywood legend Dharmendra unites with his sons Sunny and Bobby Deol on-screen in the sequel to super hit Yamla Pagla Deewana. Yamla Pagla Deewana 2 is produced by the Deol's themselves and was extensively shot in Birmingham and Leicester. The comedy film, also starring Johnny Lever and Anupam Kher amongst others, releases in UK cinemas on 7th June 2013.
Our Bollywood correspondent Sunny Malik caught up with Sunny and Bobby Deol in London recently to talk about this much awaited summer film.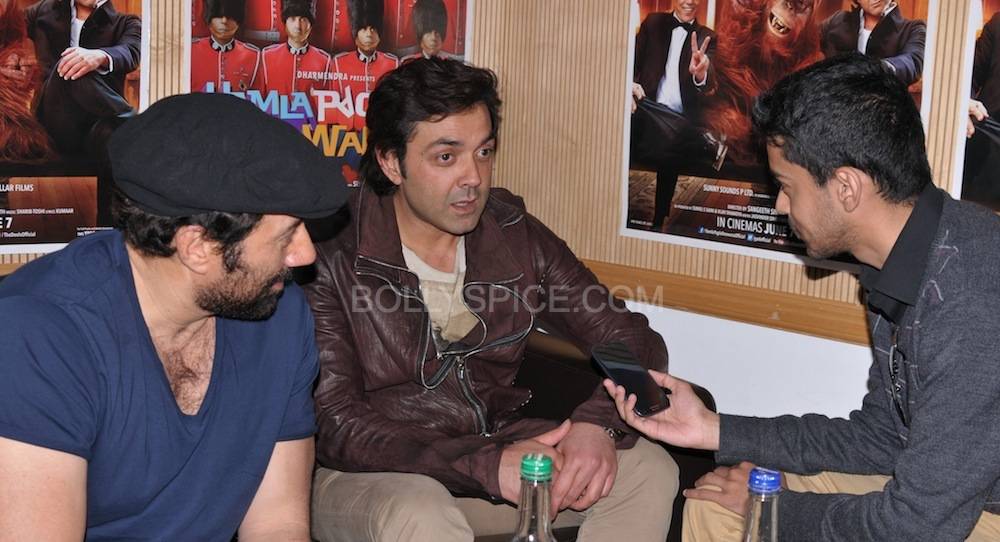 Welcome back to the UK. You guys shot here and now you are here promoting the film. How does it feel?
Bobby Deol: It feels good to be back here. I have been coming here since I was five-years-old. Now that I am in London, I am actually missing Leicester and Birmingham. I would like to go back and walk around and spend some time there. So, it's good to be here.
Was it at times difficult to film there because of the large Asian population?
Sunny Deol: There was nothing like that. Difficult and easy is not the issue whenever we shoot. I would go anywhere to shoot if it's required. The subject of the film required us to come here. I have stayed in the Midlands quite a lot and know the area quite well. It was easier to coordinate everything and it was peaceful.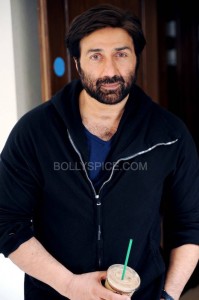 You are producing the film on your own. Why did you not co-produce it with a studio, which is what most people are doing?
Sunny Deol: Well, you see, we don't have studios in India. We have multinational companies which are coming into India to do business. They are not studios because they don't know anything about movies. They are not people who understand a subject or a story. They wouldn't know if the story is good or not. They have a different thought process. The main focus should be on the story of the film. That's what turned us into producers and that is how it's going to be because I believe that if the script is good, then I will make the film.
You are not doing as many films as you used to do. Is that a conscious decision, to be selective?
Bobby Deol: Like my brother said, we just want to make films that we really want to do. There are not many people who believe in it. I want to make films that I enjoy doing. I chose not to do many films because I would rather do a film which is worthy of me spending my 6 months on it and I have to believe in it. That's what I look forward to when I do a film. I am not saying I won't work in outside productions, but I would rather do a film produced by our production house, Vijeta Films. The next production I am working on is called Cheers and also stars my Dad. It's a film about a father and his relationship with his son. It's a feel-good kind of film.
Sunny Deol: It's about two generations. It's a very interesting project.
You said you get nervous when you have to speak in front of your Dad. Why is that?
Bobby Deol: (Laughs) It's nothing like that. When I am speaking at a press conference with my father present, I have to think what I speak about as he is my father. When we are working, I can fool around with my Dad like a friend. It was quite fun shooting Yamla Pagla Deewana 2 together. Even though we live in the same house, we were always confined to our own areas. So here in the UK during the shooting, we were always together. There was a lot of bonding and it was fun. Every father wants his son to be his buddy. It was great.
There were news reports that you patched up with Aditya Chopra and finalised the deal with Yash Raj Music for the music of the film…
Sunny Deol: There was nothing like that really. As we were talking about studios, Yash Raj is a production house and studio that believes in making films that they believe in. They also released the Home Video of Yamla Pagla Deewana. We reached out to all music companies with the music of the film. Yash Raj Music liked it and my gut feeling was to go with them. They are from the film fraternity and they would do things like I would want them to be done with the marketing of the music. That's why I chose Yash Raj Music.
What are your expectations from the UK audience for the film?
Bobby Deol: I don't think we make films for a specific geographical area. We make films for everyone. The film is a really good entertainer. Yes, people in the UK may relate to the film more because we shot here. I am sure it's a film that will be liked by audiences in any country.
Photos by Hayat Khan