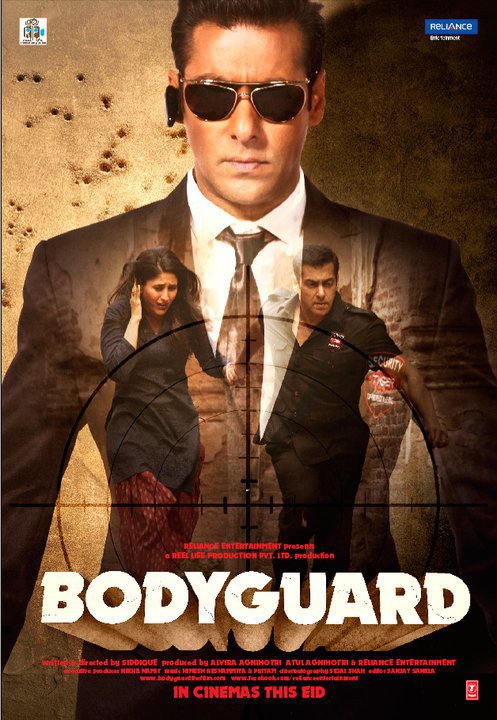 After the box-office smashing results of Wanted, Dabangg and Ready, Salman Khan is back again with Bodyguard. Bodyguard is a remake of the Malayalam hit of the same name which starred Dileep and Nayantara. Bodyguard has already been remade in Tamil and a Telugu remake is in the works, so it's only fitting that Hindi cinema tries its luck as well. Bodyguard has been directed by Siddique, who directed the original as well as the Tamil and Telugu remakes of the film.
Bodyguard features compositions by Himesh Reshammiya, whose musical career has been rather silent. Lyrics have been penned by Shabbir Ahmed and Neelesh Misra, however the soundtrack covers do not stipulate as to whether the songs are collaboration between the two or if they wrote different tracks. Bodyguard features the vocal talents of Rahet Fateh Ali Khan ('Tere Mast Mast Do Nain' – Dabangg), Shreya Ghosal ('Bahara' – I Hate Luv Storys), Mika Singh ('Dhinka Chika' – Ready), Ash King ('Te Amo' – Dum Maro Dum) and Shaan ('Chand Sifarish' – Faana) amongst others.
The film also stars Kareena Kapoor and will hit cinemas 31 August 2011.
The soundtrack commences with the Title Track by Salman Khan and group of singers called the Band of Power. While the track is not very imaginative, it cannot be accused of being ineffective. It's effective in the fact that the music is quite catchy, a typical symptom of Himesh songs. Lyrics are strictly okay and some lines do put a smile on your face. My favourite is 'sabse hot sabse hard…aa gaya hai dekho bodyguard.' The track is repeated later on in the soundtrack as a remix. The remix is not too different from the original. It simply has a bit of an alternative beginning and the tempo is a tad bit faster. In short the track is a loose amalgamation of Tees Maar Khan's 'Bade Dilwala', Ready's 'Dhinka Chika' and Wanted's title track.
The soundtrack takes a softer turn with I Love You. This track is a composition by guest composer Pritam. It is sung by Ash King with supporting vocals from Clinton Cerejo, and has a nice melodious tune with equally nice lyrics. Ash renders the number in the charming fashion audiences have come to love in 'Dil Gira Dafatan' (Delhi 6) and 'Te Amo' (Dum Maro Dum). It is an all round sweet song and if you liked 'Te Amo' you will like this number too.   The remix of I Love You is unremarkable in more ways than one. Ash's vocals are lost in the ill-arranged music, which neither has character, nor charm.  The unplugged version of I Love You on the other hand is divine. It is sung by Shaan and surpasses Ash's version by light years. Shaan's vocals just have that magical romantic quality that emphasizes the lyrics just that tad bit more.
Next up is Mika Singh and Amrita Kak with Desi Beats, a rather unimpressive number that is simply myriad of loud and senseless music with a weak attempt by Himesh at inserting key music from 'Tum Kya Jaano Mohabbat Kya Hai' from R D Burman's Hum Kisise Kum Nahin. Only consolation is Mika's energetic vocals which Amrita does not match by a long short. The remix of Desi Beats is yet another unremarkable track while its hip hop version by Alam Gir Khan neither adds nor subtracts to the mediocrity of the number.
Teri Meri gets off to a horrible start with what sounds like something from a cheap keyboard. Even seasoned singers like Rahet Fateh Ali Khan and Shreya Ghosal cannot save the track. If that was not enough, the lyrics are very run-of-the-mill and at times cringe-worthy. The reprise of Teri Meri has a tad bit more emotion but other than that it is as unimpressive as the first. Same goes for its remix.
The soundtrack closes with an instrumental, that is the film's theme music which is basically an instrumental of Teri Meri with a higher tempo and Rahet's vocals interwoven through it.
Bodyguard, plainly put,  is unremarkable and unimpressive. Salman Khan's winning streak of films, that is Dabangg, Wanted and Ready had great music but Bodyguard is a drastic disappointment. The soundtrack's saving grace is Shaan's I Love You and to a lesser extent the title track.
There was a reason behind the lack of new Himesh soundtracks on the market and this should have served as a cautionary tale to the makers of Bodyguard. They would have better of getting Ousephachan, the national award winning music director of the Malayalam original or Vidyarsagar (Hulchul and Mere Baap Pehle Aap) who composed for the Tamil remake Kaavalan.
In short, do not rush to your nearest music outlet for Bodyguard's OST. Just listen to it at the movies so that Salman Khan and Kareena Kapoor lessen the pain it will inflict on your ears.