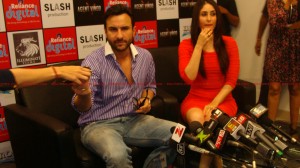 Saif and Kareena have made very few appearances together for the press and hence it was no wonder that when they finally did for their movie Agent Vinod, they almost created a stampede. Not just the fans but the press went berserk as well. The couple talked about all things Agent Vinod and of course about each other.
Talking about why the duo waited so long before coming together for an event Saif said, "I think it is always better to create more of an impact than to bore people with your presence. If we left it till last then it was probably an intelligent thing we did. Anyways it's difficult to promote this film with two people like Kareena and I –we want to keep things professional and publicize the film as two actors." Kareena looked quite impressed with the way he handled the commotion saying with obvious admiration in her eyes. "Saif handles every situation extremely well and I am glad you guys realized that he is very charming."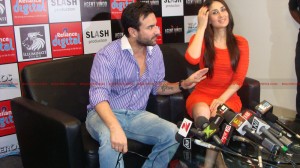 The duo has already worked together earlier in Omkara, Tashan and Kurbaan. With Agent Vinod, what is it about each other that they learned, we ask. Says Saif, "I will tell you about Kareena : she has got amazing screen presence, she is a wonderful actor and a very professional co-star. That's an important thing and also what's interesting for me is to take an artist like her, take her out of her comfort zone – she actually prefers to do love stories and characters like Geet from Jab We Met – and put her in an action adventure. The way Sriram Raghavan has portrayed her is great to watch." Kareena added, "I have always said that I think Saif and Aamir are the best actors in Indian cinema, so it's a great opportunity to work with Saif. Apart from that, Saif has looked very hot and sexy in the film, no doubt about that! And just the fact that I have him to myself and I get a lot of time to spend with him so (looks at Saif and says), Thank you Saif for casting me in Agent Vinod and giving me such a wonderful role."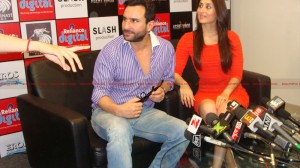 Agent Vinod got banned in Pakistan and with the Pakistani audience loving Bebo's mujra and eagerly awaiting the movie, this was a disappointment. Saif is disappointed too since he states that the movie is not a Pakistan bashing flick like Gaddar ("Although I loved it," he says) but in fact puts forth the point that not all Pakistanis are anti-social elements. "It's a shame because the whole idea is to have open cinema between the two countries," he said, "I can proudly say that this is not a jingoistic film that bashes Pakistan – in fact Kareena plays a Pakistani girl – yes, we have shown a few bad elements been harbored in Pakistan, so maybe they have taken offense to that."  Talks about mujra lead us to a discussion on the music where the unanimous vote went to Saif's 'Pyaar Ki Pungi' over her 'Muft Ka'. Kareena admits, "People have taken to it because normally you see Saif romance Rani, Deepika and everyone else. We have never really seem him romance himself and be crazy and dance around. Because Saif has that personality – he has a great sense of humor, he has a very natural way to perform – and that's why I think people have taken to 'Pungi'.
Saif signs off with the last word on Bond comparisons and real/ reel couples. "It's a spy thriller. There are many spy thrillers and in India too we try to make larger than life films but it would be silly of us to try to imitate James Bond," he adds, "People shouldn't come to see an off-screen couple on screen. They should come to see the actors, the director's film."
P.S.: We don't know about the audience but his son Ibraham definitely seemed to have liked the movie.
Check out our exclusive coverage in pictures from the event!