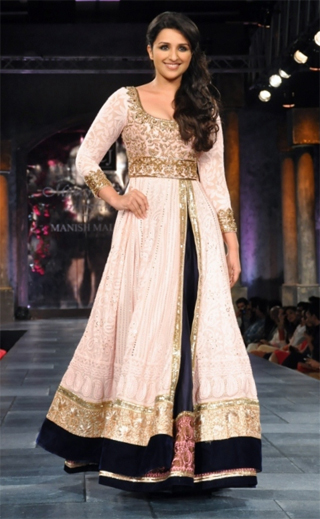 Bollywood and Brit glamour go head to head on Saturday 23rd February as India's top fashion designer, Manish Malhotra showcases his first collection in the UK. The stars are set to gather at a gala charity fundraiser in aid of The Angeli Foundation, a charity that works to empower the Girl Child in India.
The hottest news is that Bollywood darling Parineeti Chopra will be jetting in to support her close friend and 'walk the ramp' along with Rangeela star Urmila Matondkar! Rumour has it that Malhotra has a couple of other Bollywood guests up his sleeve… we wait with baited breath!
The British contingent is also getting their glad rags ready as they turn out for a night of glamour, glitz and giving… Amongst the stars lending their support to The Angeli Foundation will be legendary star Meera Syal; Adil Ray now better known as Citizen Khan; Holby City and Casualty stars Laila Rouass, Sunetra Sarker and Hari Dhillon; Coronation Street's Jimi Harkishin; former Eastenders Ace Bhatti and Shivani Ghai; BBC TV presenters Anita Rani and Sonali Shah; BBC radio presenters Anushka Arora, Sunny & Shay; Radio 1's Nihal, and Kiss FM's DJ Neev.
The Angeli Foundation works to 'Save the Girl Child' and redress the balance for women who are treated as second-class citizens throughout their lives. From female foeticide to limiting healthcare and education in favour of male siblings, to bride burnings, unreported rapes and acid attacks, inequality in India exists from womb to woman.
Ratika Puri Kapur, chair of the UK Chapter of The Angeli Foundation said of the celebrity support: "We are very excited that Parineeti and Urmila have both agreed to come to our fundraiser and walk the ramp! I am sure they will be the showstoppers on the night. I have also been amazed and touched by the level of support from all the British celebrities and am looking forward to meeting them all. It is going to be a very important night for all the girls in
India that we work with to give them a sense of value and independence."
Proceeds from ticket sales and an exclusive live auction will go to two specific projects run by The Angeli Foundation:
• The Gayatri Education Programme which provides girl students with the skills they need to succeed Mobile Medical Clinics to visit girl's schools and provide heath checks on a regular basis
• Tickets for the Gala Fundraiser are now on sale at www.chillitickets.com and include a fabulous four-course meal, wine and other additional alcohol, soft drinks, plus access to the after-party:
• Silver Seats – are priced at £150 per seat or £1500 for a table of 10;
• Platinum Seats – which are in best location next to the catwalk and close to celebrity guests are priced at £300 per seat or £3000 for a table of 10.