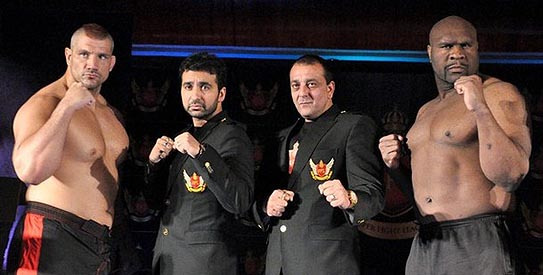 Mixed Martial Arts "MMA" has been growing by leaps and bounds the last few years. In fact it is casting a huge shadow over boxing.  Since this huge growth it is no wonder that Bollywood is getting excited about it.
Back in March the Super Fight League was started with events for Mubai, New Dehli, and Chandigarh. This has been launched by actor Sanjay Dutt and Raj Kundra who are passionate about the sport of MMA and realize its' true growth potential.
Ultimate Fighting Championship which is US bases is the world's biggest MMA promoter and signed a deal with Fox that will net a reported 90-100 million in rights annually.
It is no wonder since MMA has become the fastest growing sport that new workouts are popping up all over around the MMA style. One of the newest MMA workout to hit the market is Les Mills Combat. Les Mills has been getting people in shape for over 15 years and is in more than 10,000 gyms worldwide. They have teamed up with BeachBody to create an MMA workout that has been gaining great traction. To learn more you can check out this Les Mills Combat Review.
If you have ever dreamed of being a actor or better yet a fighter in an actor then your dreams are much closer to becoming a reality with all the new MMA movies that will be coming out. Better yet if you just dreamed about being in better shape or being a fighter you can try out Les Mills Combat in the comfort of your own home.