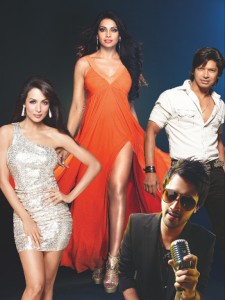 Official Launch of 'Bollywood Showstoppers' will see Bollywood dance troupe FLEX FX on the roof of the world famous venue!
'Bollywood Showstoppers' will see this year's most exciting music and dance line up come together for two spectacular shows in the UK on the 5th (LG Arena, Birmingham) and 7th of April (O2 Arena, London). Iconic Bollywood bombshell Bipasha Basu, dancing diva Malaika Arora Khan, Pakistani rockstar Atif Aslam and Hindi singing star Shaan will all perform alongside leading British dance troupe Flex FX in what will be the UK's biggest Bollywood showcase in years.
The O2 will be hosting an interactive afternoon with Flex FX on Thursday 21st March. Ten members of the public are being offered the opportunity to win a dance class with the Bollywood dancers, who have previously featured on Sky One's 'Got To Dance' and celebrate their 10-year anniversary this year. The winners will be chosen via The O2's social media platforms and will be given a 30-minute lesson with the Flex FX dancers.
To celebrate the upcoming 'Bollywood Showstoppers' event, taking place in The O2 on Sunday 7th April, the dancers will be heading onto the roof of the iconic dome for a unique photo opportunity, which will mark the official launch of the London show. 'Bollywood Showstoppers' will see the stars light up one of Europe's largest arenas in a stunning four-hour music and dance extravaganza.
Naz Choudhury, Flex FX's artist director said: "It's a great honour for all of the Flex FX team to have the opportunity to create this project, having worked in the dance industry for a decade. 'Bollywood Showstoppers' will be a landmark event, which for the first time will see British dancers collaborate with some of the biggest stars in Bollywood in a live event. I hope we can all come together to celebrate ten years of Flex FX, starting with a fantastic launch on top of the O2 Arena!"
In 3 weeks time, the 'Bollywood Showstoppers' event reaches the UK and will see international rock stars Atif Aslam and Shaan performing their greatest hits with full live bands. Two of Bollywood's leading ladies Bipasha Basu and Malaika Arora Khan will be performing individual sets of all of their explosive blockbuster dance numbers and taking you through their journey in Indian cinema so far. In a unique collaborative twist, they will be performing live with Flex FX dancers, with choreography by Naz Choudhury and Leena Patel. The spectacular show will commemorate 100 years of Bollywood, with 2013 marking the milestone centenary anniversary for the largest film industry in the world.