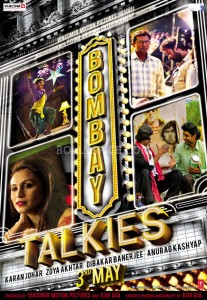 Bombay Talkies, the four stories in one film tribute to 100 years of Indian Cinema, has been selected to be the official Indian film for screening at the 66th Cannes Film Festival. The screening will happen on 19th May.
Last year, it was Viacom18 Motion Pictures' film Gangs of Wasseypur that was chosen for the festival, and once again, it is a Viacom18 film.
Reacting to the news, the four directors ecstatically put forth their comments. Karan Johar said,"Extremely honoured that our film has been chosen for Cannes. I can't wait to walk the red carpet with my co-directors Zoya, Dibakar and Anurag."
Zoya Akhtar said,"This will be my first time at Cannes and I had always thought when I go there, I want to go with a film. Things happen the way you wish, and going with three friends is the best feeling ever."
Dibakar Banerjee says he is thrilled go to Cannes and have the opportunity to represent Indian Cinema there. Anurag Kashyap said, "I'm so happy to go to Cannes with a film again."
Bombay Talkies is a Viacom 18 Motion Pictures and Flying Unicorn production. It will hit the theatres on 3rd May.