"The director is the only person who knows what the film is about. – Satyajit Ray "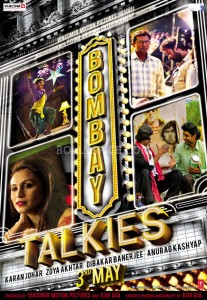 It's the centenary of Indian Cinema. 100 years of laughter, tears, joy, happiness, sorrows, anguish, stories shared through the magic that unfold on celluloid. First date? Family outing? An evening with friends? Cinema has been an inseparable part of our lives. Flying Unicorn Entertainment in association with Viacom 18 present Bombay Talkies where four directors with different sensibilities, extreme ideas and diverse filmmaking styles come together to weave an episodic film that not only celebrates cinema but more so the impact movies have on its audiences.
In Karan Johar's short, Rani and Randeep, husband-wife duo both working in media spaces, share a marriage of respect and adoration but one that's bereft of physical intimacy. A friendly intern (Saqib Saleem) enters their life, nudges at their relationship's surface and skeletons tumble out.
Dibakar Banerjee's protagonist Nawazuddin Siddiqui, a sluggish theatre actor, regales his bedridden daughter with tales of Bollywood and Bollywood-walas, whilst he is forced to question his passion and the purpose of his life.
In Zoya Akhtar's film, school-going Vicky (Naman Jain) allured by the latka-jhatkas of onscreen Sheela i.e. Katrina Kaif, confides his dream of pursuing dance with his sibling-comrade (Khushi Dubey) against the wishes of his tyrant father (Ranveer Shorey) who instead coaxes him to practice sports.
Lastly, Anurag Kashyap's tale of the common fan's blind faith in the power of superstars has his leading actor Vijay (Vineet Kumar Singh) travel from Allahabad upon the insistence of his father to meet Amitabh Bachchan.
I don't remember too many multi-star cast film where it's tough to pick a favorite. Nawazuddin's animated story-telling amidst the milieu of bleak chawl setting, Saquib's outrage in his opening sequence, Naman Jain's naïve worship of his onscreen idol to
Vineet Kumar's confidence masked vulnerability. Each leading actor justifies their director's vision and maxes their acting prowess like never seen before. Possibly a case of shameless abandon and no-holds barred approach that every director adopted, helps translate into fantastic performance of all the actors. Cameos by Amitabh Bachchan, Sadashiv Amprapurkar, Rani Mukherjee, Randeep Hooda are equally solid gold and draw you into the world of cinema we've known to love and cherish.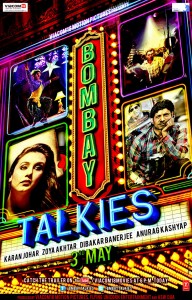 Karan Johar works with a theme he is familiar with i.e. relationships, but in a surprise as it will be too many, he treats this one especially the bold scenes and lines with delicate astuteness balancing it with equal grace. For someone who self-proclaims as not the biggest fan on brevity, it's commendable how his tale smoothly paces and establishes what it wants to in 25 minutes. Dibakar's craft adopts his standard no fuss-no frills approach and scores higher than his co-directors for this simplicity. While Zoya captures the gullible love-struck gaze of a child and the parental temperament to thrust selfish ambitions on their children with her deft direction, Anurag in a fan-boy ode to Sr. Bachchan delights with a chaotic mix of despair and humor, injecting smartly the traits and nitty gritties as is known of people from that part of the country.
A special mention to all the technicians who have equally contributed to making this film a brilliant product for the audience. An extensive list that from the dialogues to the production values to the cinematography and music, everyone has accentuated the directors craft by lending able support, never going overboard, being just right and helping keep it very real.
Unlike Dhobi Ghaat or Life in a Metro, Bombay Talkies is an anthology of four diverse short films. Their characters don't run into each other, their narratives don't intersect. Each has its own identity, its own space and its own story. The only common vein that runs thru them is cinema, in form of inspiration, a leaf picked from the lives of the many faces in the crowd who are or yearn to be part of the maya nagari.
For a country besotted with cinema, we tend to embrace it in varied ways. For some its romanticism, for some it acts as therapy, for others it's an escape from the mundane reality to a world of limitless fantasies while for some others its pure entertainment. It's an endearing thought that at the end, wherever we come from, whichever strata we belong to, we seek refuge in cinema, in some form or the other – its music, its stories, its fantasies and its lessons. It's this aspect that is delightfully captured in each short. Kudos to producer Ashi Dua for bringing together four prolific film-makers, who for a change don't delve into the lives of star-listers but instead borrow pieces from a common man's life and paint a picture of innumerable emotions which is relatable, engaging and equally entertaining. A must watch.