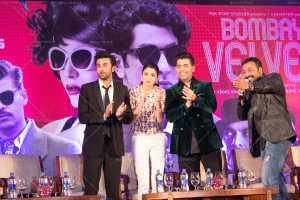 The team of Bombay Velvet recently held a launch for their second trailer in Mumbai recently. Present at the event were director Anurag Kashyap, lead pair Ranbir Kapoor and Anushka Sharma, Karan Johar, Kay Kay Menon along with others from the cast and crew.
The cast was in a very humorous mood and there was healthy banter on the stage. Karan Johar who is playing a grey character in the movie said that when Anurag came and narrated the script to him, he was under the impression that Anurag wanted him to be the producer and had no idea that he was to play the role of Khambata. While Karan remained purely an actor on the sets and did not try to give inputs as a director to Anurag, Karan said that it was Ranbir who tried to direct him often giving conflicting instructions to those which Anurag had given! When asked if he is doing any more films, he said that he was offered a couple of roles and he wasn't averse to the idea of working in other's movies.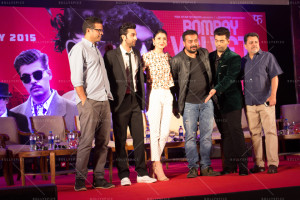 Ranbir Kapoor, who is playing the role of Johnny Balraj in the movie, said that he is a total director's actor. "I am as good as the director. I have always been selfish about working with good directors. Vikas gave me this script and I read it on the plane and called up Anurag and told him that I wanted to do this role. Anurag, on the other hand, felt that I had always done urban characters. He told me he will get back to me in 2-3 days. He called me after a week," Ranbir revealed about how he came to be a part of Bombay Velvet. Anushka who was among the first to be onboard said that she had to work with the choreographer for her role as a singer to look realistic – not just lip-syncing but actually looking like Rosie Noronha is singing just like Ranbir's character in Rockstar sang believably she added.
Anurag Kashyap who has brought in a blend of the 50s and 60s look in his movie talked about the difficulties of making a periodic movie. The challenging part is envisioning the characters' nuances, appearances, dialects etc., he said adding that the execution part of this process is always comparatively easier. For all those who have an image of Anurag as a serious and a rarely smiling guy, you are in for a surprise. "Anurag has this reputation of being intense and a rebel but he's like a teddy bear," Ranbir said adding, "If Anurag sneezed, the entire set was running for him. I have never seen such following. It is not demanded. I think Anurag inspires everybody around him and everyone has love for him."
The trailer looks pretty interesting and we can't wait to catch the movie on 15th May. As usual, stay tuned to BollySpice for more news on Bombay Velvet.