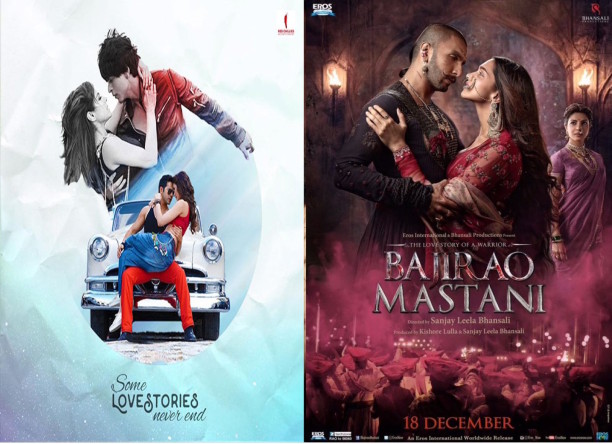 After a suspense of more than six months that whether Bajirao Mastani and Dilwale would indeed release on the same date, the picture got clearer a month back when the publicity material of both the films called out 18th December. Till around a fortnight back one just wondered if makers of one of the two films would have a change of mind and instead opt for 25th December holiday release. However, it was not to be as it was crystal clear for all involved with the two films that it is indeed going to be 18th December.
Well, the big day is not just a few hours away and it is time for audience to step in for the double bonanza. All said and done, it is going to be fireworks in theaters since Bajirao Mastani as well as Dilwale are two of the hottest films to arrive this year. It is also the battle amongst equals and since both films are in hardcore mainstream commercial space, it makes it all the more interesting for the audience.
Thankfully, it won't be the case of 'picking and choosing' as for a true Bollywood fan, there is a lot in the offering from the classy space of Sanjay Leela Bhansali and the massy world of Rohit Shetty. Yes, there are factors like piracy which would set in and while that is something that is only getting worse with every passing week, the marketing effort has been pumped up all the more to ensure that both the films take a rollicking start to counter that.
All of that means that Bollywood is set to have its biggest day ever once Bajirao Mastani and Dilwale hit the screens. These two would be practically the only films running in town as the distributors and exhibitors have gone all out to give ample space to the Eros and Red Chillies productions. The two films would be running across more than 5000 screens across the country, which means there is potential for the sum total of collections to be in the upwards of 50 crore.
However, since the films are releasing on a non-holiday, it would be fair to expect combined collections of two films on the opening day to be between 35 crore – 40 crore. This is how the record holders look like currently and it is pretty much on the cards that while individually Bajirao Mastani and Dilwale won't quite reach there, together they certainly would, hence bringing a smile back on the face of exhibitors.
Top 3 opening day of non-holiday releases
Dhoom 3 – 36.22 crore
Bajrangi Bhaijaan – 27.25 crore
PK – 27 crore
Top 3 opening day of holiday releases
Happy New Year – 42.6 crore
Prem Ratan Dhan Payo – 40.35 crore
Ek Tha Tiger – 33 crore
Note: All collections as per production and distributor sources
Joginder Tuteja tweets @tutejajoginder