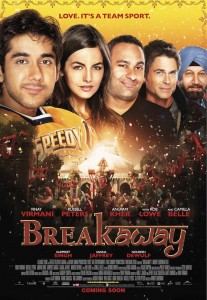 It couldn't get any bigger than this for Breakaway as one of the largest national dailies of Canada, the National Post carried news about how the movie shall be featured at the Toronto International Film Festival.
The headline in the newspaper ran, 'Nothing says Canada like a hockey film: TIFF unveils homegrown line-up' and apart from a host of popular Indian, American and Canadian actors, the attractiveness of the movie lies in the fact that it is a movie based on Canada's favourite sport – ice hockey. Comedian Russell Peters, who also stars in the movie Breakaway, is quoted as saying in a video posted on YouTube, "When I first started doing stand-up, I used to do a joke about an all Sikh ice hockey team called the Toronto Maple Sikhs. Who would have thought 20 years later I'm in a film about an all-Sikh ice hockey team?"
The Toronto International Film Festival shall ensure maximum exposure for Breakaway as around 250,000 avid movie-goers are expected to attend this festival and the strong Canadian connects of the movie is sure to attract an even larger number of people to the movie hall.