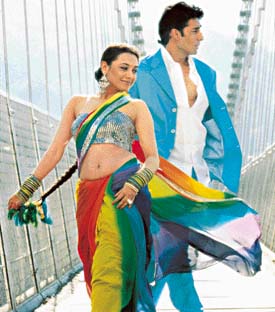 The popular 2005 Yashraj hit Bunty aur Babli, which starred Abhishek Bachchan and Rani Mukherji, is all to be remade into a Hollywood movie.
Actor turned producer, Uday Chopra who recently launched Yash Raj films in America, is set to give the Bollywood film a Hollywood make over. Uday Chopra has apparently employed writers, in Beverly Hills, to re-write the script so it appeals to the Hollywood audience.
This will not be the first time Uday Chopra is working on a Hollywood production as Uday is producing upcoming Hollywood movies, The Longest Week and Nicole Kidman starrer Grace of Monaco.
If all goes ahead then this will be the first time an intellectual property of a Bollywood film would be made into a global film after re-working the script. Although Bollywood producer Vidhu Vinod Chopra recently sold the rights of his Munnabhai films to Hollywood studios he will not himself be reworking the movies.
The cast and crew are yet to be confirmed but stay tuned to Bollyspice.com for all details on this new venture.