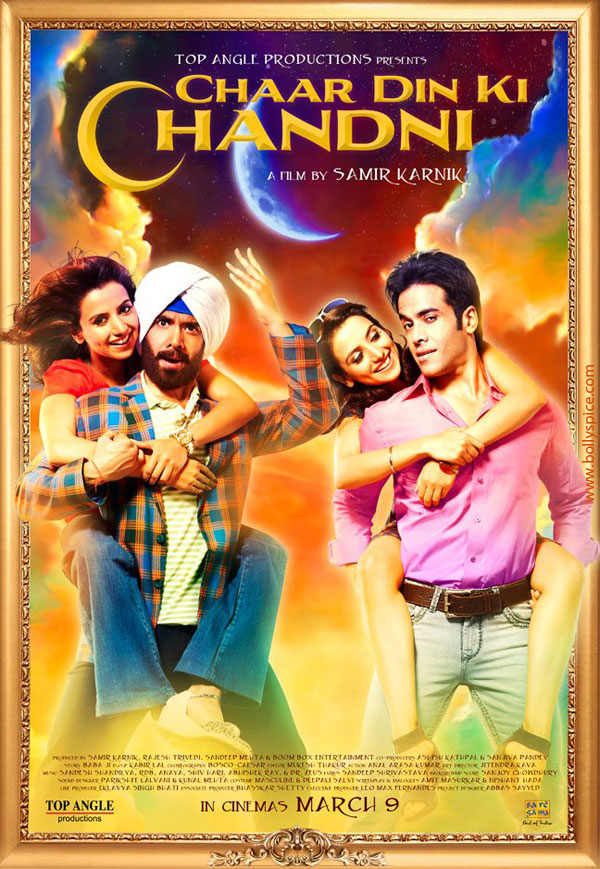 I was extremely wary of watching this movie. Except for a couple of trailers and songs, the only little information I had was that it's Tusshar Kapoor's solo-hero project. That limited knowledge did not warrant for a theatre watch. The makers had not succumbed to marketing gimmicks, the films promotional appearances were far and few. Samir Karnik's whose last flick Yamla Pagala Deewana was a moderately successful yet ludicrous outing; banking on Deol strength, returns with a similar feel sticking to the familiar recipe.
The story set in Rajasthan, of Maharaja CV Singh (Anupam Kher) who when not being pompous of his 'royal' heritage, threatens to shoot anyone who crosses him. Adding to the royal tomfoolery are CV's four sons each characterized by idiosyncrasies – lecherous 'choli' leering pervert (Mukul Dev), hot-tempered with a passion for arms (Sushant Singh), alcoholic (Chandrachur Singh) and Harish. There's more to the Rajasthani royalty than the palaces and vintage cars – the maharani (Anita Raj – looking younger than her onscreen sons) trends a tattoo, thinks its cool when her to-be-daughter-in-law calls her by her first name. The princess wears skimpy clothes, has a fetish for sex toys and very casually has a costume sangeet party. So the royals are pretty cool in that way except for one royal rule – marriage must happen in equal status or else all hell will break loose in CV Singh's world. Trouble begins when youngest son London-educated Veer (Tusshar) brings home girlfriend Chandni (Kulraj), who far away from being royalty is a boisterous, forthright Punjabi girl with loud, foul-mouthed parents. While Tusshar must find a way to announce to Papa Singh 'Pyaar kiya toh Darna kya', Chandni waltzes through the set winning hearts courtesy her know-it-all wisdom of guns, creativity, charm et al.
Welcome to the world of slapstick comedy where attention to story or the lack of it hardly counts. There is nothing beyond to write about any of the technical aspects right from screenplay to direction to production. The script is juvenile to the level of being pointless. What can be best described as filmmaking mockery, loaded with predictable dialogues, unnecessary camera transitions or close-ups, mindless situations, characters, songs, the film has absolutely nothing right about it. The set décor, photoshopped backgrounds are excessively fake than some you would've seen in saas-bahu serials. Spoofs on homosexuals, caricaturing Punjabis as well as Rajputs are amateurishly handled; demeaning and make your tummy squirm in disgust.
CDKC is a reiteration that Tusshar cannot work his way in solo-hero projects. The only respite then to this cinematic insult is a feisty performance by Kulraj Randhwa, who true to her on-screen name 'chandni' lights up the proceedings with her screen presence. Her dialogue delivery is sharp, chemistry with each of her co-actors is convincing.
Exasperating to the point of making one nauseous, Chaar din ki Chandni swings between being mediocre for most parts while forcing cheap innuendos in most others in the pretext of comedy. In a recent interview, Samir explaining the premise of the film said it captures the clash of Punjabi and Rajasthani cultures. It's a shame then that the filmmaker caricatured Rajasthani royals as rifle wielding drunks and Punjabis as abusive loud-mouths. Despite an array of cast from Anupam Kher, to Om Puri to Johnny Lever to Farida Jalal, the director's levy to take the audiences sense of humor for granted doesn't offer anything in terms of entertainment. Chaar din ki Chandni which roughly hints to '4 days of good times' does not even deserve 4 seconds of screen space in an age where films on social causes, forgotten heroes, among others are giving new lease to Indian cinema.