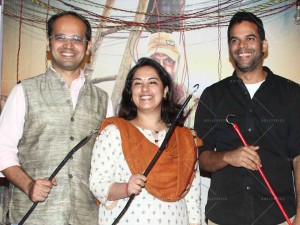 Catch Vikramaditya Motwane and director duo Deepti Kakkar and Fahad Mustafa in an exciting and unique live video chat for the award winning documentary Katiyabaaz, presented by Phantom Films.
The Google hangout is scheduled for August 20, 2014 at 2.00 pm and the audience can view it live on Glamsham's Youtube channel (https://www.youtube.com/glamsham).
Katiyabaaz is the story of electricity theft in Kanpur told through the eyes of two protagonists – Loha Singh, a katiyabaaz and Ritu Maheshwari, an IAS officer. It tells the story of the electricity crisis in small town India. It premiered at the prestigious Berlin International Film Festival and has traveled to 50 festivals across all continents. It was awarded the National Film Award and Best Indian Film award at Mumbai Film Festival last year.
Katiyabaaz will release across India on 22nd August.
Check out the trailer of the documentary.