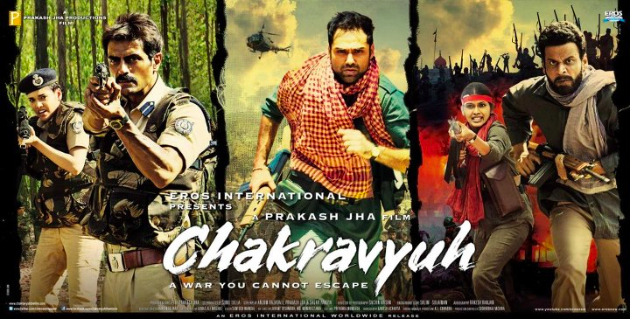 Set to release on October 24th is Prakash Jha's next hard hitting film Chakravyuh starring Arjun Rampal, Abhay Deol, Manoj Bajpayee, Esha Gupta, Anjali Patil and Om Puri. According to star Arjun Rampal,"His (Prakash Jha) films are not boring documentaries, yet they talk about relevant issues. They are the perfect combination of realism and commercialism. I didn't know what the Naxal movement was about. We live in cities and that's why we feel this is the whole world. We are ignorant about the Naxals. Prakash told me that 90 per cent of India lives in villages. There's nothing happening to promote their growth. They are an easy target (for the Naxals), and they get influenced easily."
Talking about the film the Prakash Jha said in his director note, "The world looks at India, as a shining nation on the rise. Stories of economic growth, and a newly affluent middle class dot our consciousness. But in the underbelly of the world's largest democracy, far away from the glitz of the big cities, a war is brewing.
India has been free and independent for over six decades. But go into the heart of the India's forests and villages, "What freedom?" asks a tribal. "We have lost everything after India became independent."
The state needs control over the land and the natural resources. But the tribals and villagers who have seen neither development nor compensation for this displacement, have decided to protest. They will not give up their forests, their rivers and their homes.
Young educated citizens from cities are leading the way, helping the tribals protest. But this protest knows only one language – the language of violence. And the State too knows only one language – the language of violence.
I found, as I traveled through beautiful green forests, and lush untouched landscapes that there was fear lurking in every corner. There were gunshots and there was a haunting silence. But there was no development.
I have tried to chronicle this conflict by telling the story of two friends, who eventually find themselves on opposing sides of this conflict. I have made this film to bring this conflict into public focus.
Chakravyuh, the word, implies a war formation from which there is no escape. My film is about this sense of being cornered from all sides. The dilemma of finding yourself in a war from which there is no escape."
Check out the first look of the trailer!
httpvh://youtu.be/OnamEA8iLGY
Stay tuned we will be bringing you much more including exclusive pics from the trailer launch!!