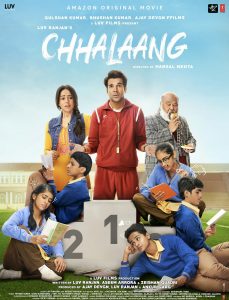 Chhalaang (Amazon Prime)
Starring Rajkummar Rao, Nushrratt Bharuccha, Mohammed Zeeshan Ayyub, Saurabh Shukla, Ila Arun, and Satish Kaushik
Directed by Hansal Mehta
The most complicated part of this languid film is the spelling of the heroine's name. Otherwise it's all very simple,really. If a sports teacher in a backwater town of Haryana is indolent and insolent, bring on a feisty girl from the outside who when asked for a date retorts, 'Daru pilayega?'
This is the writers Luv Ranjan, Aseem Arrora and Zeishan Quadri's idea of progressive womanhood. It gets even more weird as the progressive elements 'progress' to a deadend that comes a good two hours after the opening gag where the word randwaa for widower is supposed to simulate humour.
At one point the above-mentioned daru-swigging damsel shares a drink with her future father-in-law (Satish Kaushik, aptly droll). Wah, Haryana is the place to be on holiday from 'dry' Bihar. Booze breaks notwithstanding, Chhalaang means well. It ticks all the right boxes in the progressive-cinema genre but fails to come up with any moment that could compare with bright soul-revelation of Hansal Mehta's Shahid or even City Lights.
The lights this times are seriously dimmed, although being a sports film, most of the narrative unfurls in the bright daylight with sweaty boys and girls colliding over kabbadi and basketball while the two sports coaches, played by Rajkummar Rao and Mohammed Zeeshan Ayyub battle it out over who gets the prized trophy, the new girl in town, the same one who likes her drinks and is played by an actress who spells her name with beguiling complexity.
Mehta whose films have so far tackled tangled issues such as terrorism and homosexuality is here treading on thin ice. The plot is puncfunctorily populated with trite uni-dimensional characters who pretend to be far more complex than they really are. The lines they speak are more daft than dense. But who is going to enlighten them about their dimwittedness?
Even the resident gyan-giver played by the ever-reliable Sourabh Shukla, is so self-important he asks the school principal (Ila Arun, never more listless) to do him a favour because many years ago, he had supported her, a woman,for the principal's part on the patriarchal educational system. Feminism survives by the scruff of its neck.
The characters, even the younger teenagers who train for the local tournament, want to be praised all the time. I remember Satyajit Ray once saying about Soumitra Chatterjee's character in Charulata that he was trying to be progressive to seem fashionable. Hansal's characters in this shallow shindig on sports and other timepass affairs also like posing as progressive, although I am sure they have no idea of Ray and Charulata.
The performances are without any surprise. Rajkummar Rao is getting a little repetitive. His cute puppylove expressions are common to both his films this week, though far less annoying in Ludo. He needs to take a break from Hansal Mehta while Mehta needs to end the break from his serious-toned films. Frivolity doesn't suit him.