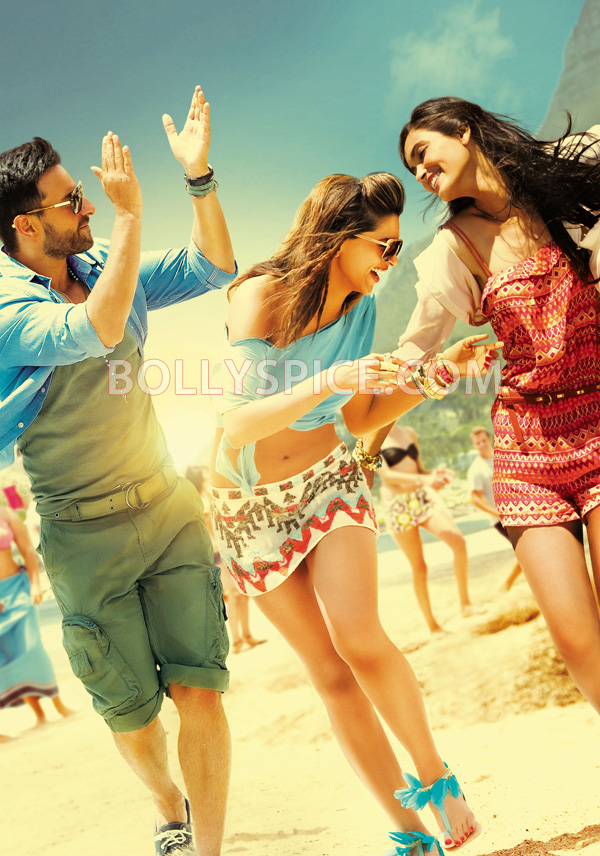 Practical relationships, breakup parties, hookups, casual flings – the past few years has seen Indian cinema exposing its audiences to changing faces of urban relationships circa yesterday, today and tomorrow. Despite strong deja-vu the trailers emitted hinting a Love Aaj Kal sequel, the makers of Cocktail maintained that the movie a fresh take on the themes of loyalty and friendship.
Wild child Veronica (Deepika Padukone), damsel desi Meera (Diana Penty) and self-proclaimed characterless Gautam (Saif Ali Khan) make up our threesome. Without giving the story away, though most was obvious if you, like me watched the trailer repeatedly – A and B prefer keeping it no-strings-attached, sharing the bed and even a toothbrush as they do, until A and C fall in love a drunken kiss after, but it's a twisted cause now B is in love with A too.
Saif in a 'been-there will continue to do that' role as the nonchalant casanova turning love sick puppy continues to be as equally endearing as infuriating as we've seen him in some others earlier. When he's funny and spontaneous he hits the sweets spots, when he looks too old for bum-jiggling or an uncle who gatecrashes kids pajama party, you've moved past to care enough about it. Diana looks the part, is pleasing, easy on the eyes especially in 'Tumhi Ho Bandhu' and makes a decent confident debut, holding her own. Lay down the red carpets, it's Deepika who outperforms even her own earlier act in LAK. She transforms beyond recognition, looking jaw-droppingly gorgeous in her sequined drunk avatar as much as when patloon-less whilst lounging at home. She adds the depth to her character, connects well with both her co-stars, her ease shining bright be it while fostering friendship, proclaiming her anguish over lost love or spitting venom for being betrayed. Special mention to Boman Irani for adding the much needed comic respite to break the monotony of heavier scenes
Director Homi Adjania takes his time in using the first half to introduce the characters and their relationships. The camaraderie between the trio is established through a series of club dropping, shopping, London city hopping and even a quick jaunt to sunny side of Cape Town, beaches, bikini et al. He brings out the best in his strongest character, Veronica, but ironically turns it into his weakest one by giving her a complete change of attitude (which was her USP). Like the character in the film says, "Clothes, hair woh sab toh theek hai but that ada, who andar wali attitude, that's the difficult part" and that's exactly my major grouse with the film. While the styling is a Vogue catalogue in motion, the attitude takes a downslide losing what could have been a truly amazing film. Why this need for filmmakers to turn potential good cinema experiences into high gloss clichéd substance is a never ending debate.
The problem with Cocktail is that; continuing on the Love Aaj Kal plane it has the requisite coolness of urban practical relationships in the first half, but it goes overboard in stuffing in uncalled maudlin in the second half. Everyone tests everyone else's morals, everyone wants to be the good guy much to an extent of crossing lines of pretense. Just when you think the filmmaker adds adult sense by putting in a scene of 'sitting at the table and talking it out', almost immediately your thrown off-guard by the characters fickleness when it comes to falling in or out of relationships. It doesn't help that where one section of the film has the characters rooting for practicality and maturity, all good logic is lost immediately after without good reason. Suddenly, everyone is stomping feet and throwing tantrums like a 2-year-old pinning for its favorite toy, which they don't care much for when they have it, but are rather jealous when their best friend does. At the snap of fingers, the characters, under the pretext of love undergo 360 degree change in mindsets, lifestyles and personalities, a little too hard a concept to digest in this age or setup.
As far as entertaining storytelling goes, Cocktail is far from being that. As the clock crawls by, the story goes from nothing to nowhere. Even as the first half with its free-spirit, cheerful vibes, and breezy treatment has you savoring the mix and going hic hic hurray, the second half just like a hangover the morning after makes you feel nauseous and dizzy. Here is a fun concoction of quirky dialogues (Imtiaz Ali), splendid cinematography (Anil Mehta), decent acts supplemented with good music (Pritam) to present a simple portrayal of relationships, let down by an unimaginative story (or the lack of it). The result? A VERY long drawn drama with gallons of glycerin with extra dash of love/friendship/relationships sermons, trying to live up to expectations of an interesting mix of Archie comics-meets-Friends-meets-Clueless; but instead failing miserably. Shaky, un-stirred.