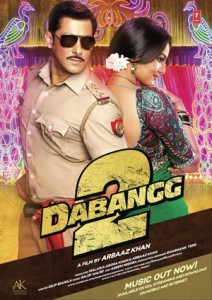 Salman Khan has promised the media and his fans that his upcoming release Dabangg 2 is completely different to Dabangg (2010). He has reassured us that the storyline is nowhere near a repeat of what was shown in the first instalment of the franchise. "It's not the same. We are not copying and giving you the same picture. It's a different film.Dabangg was of a particular genre and now a similar genre film is coming out Dabangg 2. Consider part one (Dabangg) as the one before interval and this (Dabangg 2) as after the interval."
Salman made this statement whilst hosting 'Big Boss.' He also used the show to launch the music video to 'Fervicol Se,' an item number that is performed by Kareena Kapoor in the film. When asked by a media correspondent why he chose to use 'Big Boss' to promote his upcoming film, Salman had this to say: "I am the host of 'Bigg Boss.' Wherever I get time and wherever the channel feels that Dabangg 2 promotions can be done, they do it."
Dabangg was a raving hit at the box office and its success proved that Salman was still popular with the mass audiences. It managed to collect a whopping RS. 215 crores worldwide during its 2010 Eid release. Will it surpass this record with Dabangg 2? We will just have to wait and see!
Dabangg 2 will see Salman return as the charismatic Chulbul Pandey and Sonakshi Sinha also reprising her role as his love interest. According to its synopsis, the film will be based on Chulbul tackling an evil goon turned politician Baccha Bhaiyya after being transferred to the city of Lucknow. He is compelled to overthrow this villain in the midst of mending relations which his father and brother, as well as ensuring that it does not affect his relationship with his new wife.
Dabangg 2 has been directed by Arbaaz Khan and will release in cinemas on 21 December 2012!