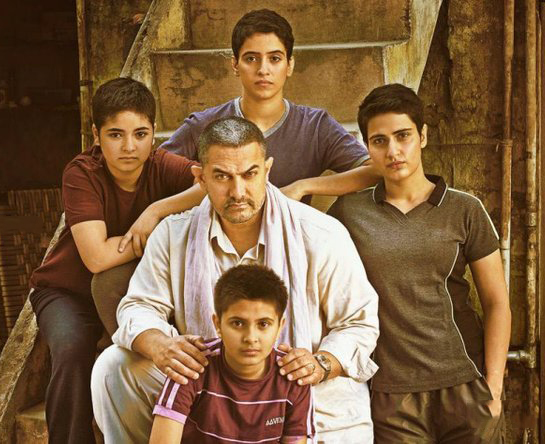 Dangal
Directed by: Nitesh Tiwari
Starring:
Aamir Khan as Mahavir Singh Phogat Sakshi Tanwar as Daya Shobha Kaur Fatima Sana Shaikh as Geeta Phogat Zaira Wasim as young Geeta
Sanya Malhotra as Babita Phogat Suhani Bhatnagar as young Babita
Music by: Pritam
Authentic. That was the first thought that entered my mind when I left the theater. The raw portrayal of the father-daughter dynamic as well as the accurate depiction of wrestling as a professional sport for women really sealed the purity of the film for me.
Based on the true story of Mahavir Singh Phogat (Aamir) and his 2 daughters, Geeta (Fatima) and Babita (Sanya), we follow the young women through their struggles of becoming the Professional Wrestlers they are today. Sprinkled with humor and inspiration, this may just be the must-go movie of the year.
The premise of the film begins with Mahavir Singh, former National champion in wrestling, dissatisfied to have missed the chance to represent India on a larger platform. Dejected and frusturated on his unfulfilled dreams, he aspires to bear a son to complete it for him. Though instead of a son, he ends up birthing 4 daughters.
Unsurprisingly, we see his eldest daughter Geeta win the Gold in the Commonwealth Games while Babita wins Silver. But it's the journey to that platform that astounds, cries, and makes the audience laugh with the family.
Pritam's fitting soundtrack is as refreshing as the film; with the perfect balance of Jonita Gandhi's soft vocals in Gilehriyaan to your latest workout track in Daler Mehndi's Dangal.
Though transforming himself for a role is not a foreign concept for Aamir Khan, he did an incredible job in gaining and then losing 25kg for the role. Aamir Khan was ruthless as the stern, unrelenting father, determined to make his daughters strive for the same goal. Zaira and Suhani stole the show as young Geeta and Babita, and made the film come alive.
Dangal will no doubt encourage more women to participate in professional wrestling, but it will also inspire you to bring hard work and determination to make your own dreams come true.