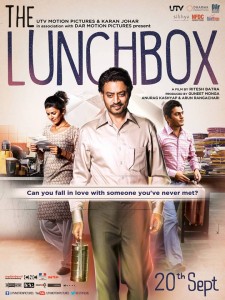 After dramatic movies like D-Day and Haunted, DAR Motion Pictures is indulging in various genres of cinema by involving itself in insightful and thought provoking movies like The Lunchbox.
DAR Motion pictures (DARMP) that started its journey only a few years ago has already bagged critically acclaimed movies. With three movies at Cannes this year, DAR Motion Pictures has made it bigger than most of the existing players in the industry. The studio has a strong-minded determination in producing significant endeavours.
The Lunch Box has been successful in garnering rich critical acclaim way before its release. After having achieved rave reviews and accolades, the movie has gained an ambitious presenter, Karan Johar. To ensure that the buzz remains and the movie gets a deserving audience for its release on 20th September, the team is reaching out to varied mix of audience bases to gain their feedback and responses.
The team recently held a screening of Lunchbox especially for students of Harvard and London school of economics as part of their promotional exercise. There were two screenings held for the alumni associations of INSEAD, Wharton, Harvard and London Business School. About 150 alumni turned up for the screening and the get together afterwards. The reactions have been ecstatic and people have taken to the film very much. There have been requests for similar screenings in Delhi and other places for the alumni located in these cities.
The screening was held at a theater in Worli. This method is traditionally known as Focus Marketing. This kind of an exercise is largely practiced in the Hollywood industry. This film has also generated immense traction amongst our audience before its release.
Subsequently, various other international business schools have approached DAR Motion Pictures (DARMP) for a screening of the film Lunchbox.