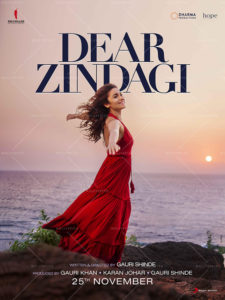 Bollywood has shown that is more than welcome to new scripts in the last few years. The number of pleasantly surprising films has increased considerably, even if it's a tad slow. One of these such films was English Vinglish by Gauri Shinde. The movie was more than just a comeback film for the epic actress Sridevi, it became a story of the household hero we see every day in our parents. Dear Zindagi follows a similar pattern in displaying before us a journey that any individual regardless of gender, age, profession or emotional capacity could go through. So let's dig in.
The journey of a person can be considered a boring and predictable backdrop for any film. Every person will come across situations in life that they have a default reaction to. Some may be good where we laugh and are happy, and some may be bad where we cry or get angry. Dear Zindagi is a journey in the life of a woman that both knows and doesn't know what she wants from life. Alia Bhatt plays Kaira who has moved back to Goa (her native town) and living with her parents even though her relationship isn't that great with them. Like a series of dominoes falling down, her move to Goa was prompted by several events knocking her down. It is at Goa, her rock bottom, she meets Jahangir Khan. What starts off as a superficial possibility to find out why she has become an insomniac, develops into a life changing relationship.
Where do I begin with the phenomenon that is Alia Bhatt? No matter which way you look at it, there could not have possibly been any other actress to play the role of Kaira. Her emotional span from the non-committal, super-sarcastic emo child-adult to a compassionate and well-balanced human being will blow your mind. Some may say you can see glimpses of Highway and Kapoor and Sons, however this writer believes Dear Zindagi is a milestone in front. Just like how an action film hero is only as good as the bad guy, Kaira is catapulted by the subtlety of the men in her life, none of which have a distinctive bad guy image yet don't conform into walking angels either. From Angad Bedi the restaurateur, to Kunal Kapoor the film producer, to Ali Zafar the musician and to a larger degree Shah Rukh Khan, each man has a part, each played to the hilt, but at no point is there a feeling of caricature. Shah Rukh has never been shown or depicted in this way. His subtlety in conversation is so refreshing you wish you could see more of it.
Of the supporting cast, Ira Dubuy, Yashwini Diayama and Rohit Saraf as friends Fatty and Jackie and Kaira's younger brother Kido play the supportive advocates while the parents and relatives take on the role of the adversarial society view. This balancing act shows how an individual and their problems can both harm and enable positive and negative aspects in life respectively. The idea that seeking help is considered taboo has been played with such finesse you don't realise this is just a film. The only downfall in the performances would have to be that certain characters drop off without reason. Yet this is not something you can say is a fault as main characters also drift in and out since the focus is on Kaira alone.
You can't have a film where the main character is a cinematographer and have bad cinematography. Laxman Utekar works wonders with the camera. Whether it is the zip in and zip out of a song, the emotional turmoil of realisation for Alia or the bitter sweet tears of separation, each frame is worth a thousand words. Hemanti Sarkar's editing is near spot-on. The duo has complemented the smooth flow of Gauri Shinde's story and screenplay. Gauri Shinde has grown as a writer and director. It is an absolute joy to see how she unfolds her characters and their relationships on screen. The simplicity of her lessons which are for the main character do border on the preachy side but she makes up for this minor aboration by dragging out epic performances from her lead actors.
A movie like Dear Zindagi doesn't really need to have songs with backdrops of the Swiss Alps and 10-15 dancers behind the lead actors, but of the songs that have been inserted Love you Zindagi takes the cake as not only a lingering tune as you walk out of the cinema halls but also a lovely clip to watch. That is what life is all about. Enjoying the moments, in full glory, but also letting go of the pain that holds you back from your enjoyable film experience.