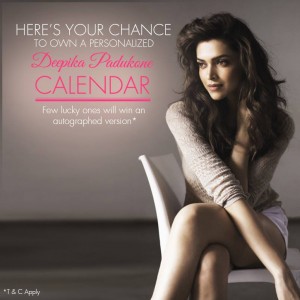 For celebrities, social media is the best tool to get in touch with fans. Through their strong digital presence they are constantly giving fans a chance be a part of their lives. From what we hear, actress Deepika Padukone has also taken a similar route and will now be featured on a calendar app on her official Facebook page. Yup that's right!
Imagine looking at the Bollywood beauty's face every month… that's the opportunity this new app provides to all hard core Deepika fans out there. So we decided to see what this app was all about and we were surprised!
This app looks fantastic and allows fans to create personalised yearly or monthly picture calendars using Deepika's images from her various films. Also, the added bonus for crazy fans is that, famous dialogues from each of Deepika's movies will also feature in the background. Users can download the digital calendars and even use the background images as their personal digital wallpapers.
Deepika had an awesome time this year with films like Finding Fanny and Happy New Year. According to reports, the Bollywood star has a number of important projects lined up in 2015, looks like we will get to see a lot more of the sexy star in the coming year.
Check out the app here: https://www.facebook.com/DeepikaPadukone/app_160430850678443
Here's wishing the actress a happy new year!