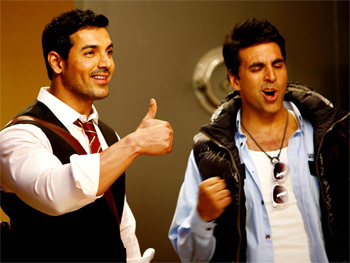 Growing up on a staple diet of glitz and fashion magazines which adorned her father's departmental store racks, Shyamali Arora definitely had an inclination towards the fashion world. Graduating as a Chartered Accountancy student from Lucknow, Mumbai got her a job at a fashion magazine where she got introduced to the field of fashion and styling. Starting from styling Ranbir Kapoor's and Katrina Kaif's look in Ajab Prem Ki Gajab Kahani, she designed Bipasha Basu's look in Dum Maaro Dum, John Abraham's in Force and even styled for Game's music video Kaun Hai Ajnabee starring Abhshek Bachchan, Kangna Ranaut and Sarah Jane Dias. In an exclusive interview to BollySpice, Shyamali talks to us about her latest movie, Desi Boyz.
What was the brief that was given to you for Desi Boyz?
I have done John Abraham, Anupam Kher and Omi Vaidya in Desi Boyz. The brief that we got for both Akshay and John was that these guys are well placed in a city like London – the movie is based largely in UK and shot over there. John Abraham plays a banker placed in a really good post at an MNC in London,so he has to be very sleek and has to have a very smart look, much like Shia LaBeouf in Wall Street. That would be his look in the first half; the second half due to some circumstances he loses his job and he goes through a change economically and mentally – therefore his look changes completely in the second half where he is defeated in relationship, professionally and in terms of friendship as well.
What are generally your sources for inspiration while designing any look?
I would say that we look for inspiration in the script. We look for inspiration from the director's vision because Rohit (Dhawan) has lived the characters; he has written the characters and he had a very clear vision of the characters way before the stylists and the designers stepped into the picture.
How involved are the actors generally when it comes to the look design?
Honestly, all the actors, those which I have worked with atleast, are really very hands on with their clothes. They understand the importance of the look and Desi Boyz is a very cool, young film. Everyone knew what their character was exactly about and hence they could bring in their own comments and ideas. Also John is so good with his brand and designers that he knows exactly what suits well on him. Having said that, I think he can pull off any look but John knows exactly what he should be in to do justice to his character.
As a creative person do you prefer being left alone to your creative space or would you not mind inputs from different people associated with the venture?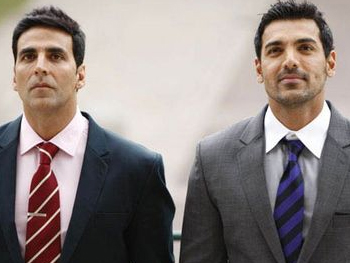 When you style for a film, you are carrying not only your ideas but the actor's and director's as well – not the producers'; I would not like the producers to meddle in my work – because it is actually their vision that you are putting forth. So it's very different from an AD, or an editorial or a fashion shoot. The director has written and visualized the characters and you are taking your inspiration from that. So I feel the director's vision is very important. Having said that, when it turns into interference, that's when designers and stylists cringe but Rohit knew exactly where to draw the line.
Which is your favorite look on the boys in the movie?
I would say definitely the title track 'Make Some Noise For the Desi Boyz'! We have done some 5-6 looks which are exactly the same for Akshay and John because that is what the song demanded. So Kunal (Rawal) and I worked together on it and it was exciting. And also we got the two most good looking men in the industry with amazing bodies who had worked out especially for this song! It's a really fun song.
What's the coolest thing about your work Shyamali?
I get to travel, I get to shop! I am paid to travel and I am paid to shop for the most beautiful people. So it's fabulous and I won't trade my job for anything else in this world.
What are the issues a designer generally faces while styling the look for a movie?
A movie is a team effort. So when a part of the structure is not organized or if the film is not scripted properly or it goes through multiple changes or people decide at the last moment that some things need to be included then that's challenging. I won't say it is difficult but then that's when you are pushed as you have to sacrifice your creativity for the bigger picture of completing the shoot because there is so much at stake. So that's what gives designers sleepless nights when we are expected to suddenly complete something overnight or when we are expected to have a magic wardrobe from where we will procure something by morning.
Apart from budget and time, are there any other constraints you have to keep in mind while designing?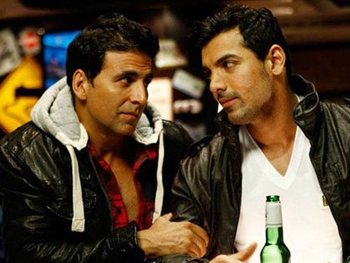 Well there are lots of times when the actor's shortcomings or weakness comes into picture. Some actors may not be comfortable with a particular thing which their character or role might demand. Also some actors hesitate from pushing the envelope. It's the actors who have to eventually pull off your look and their image is at stake. So they tend to become very safe with what has worked for them in the past. But as a designer you want to bring in something new so you have to work with the actor constantly and bring in the confidence that this look will work for them. So it's a huge risk for them and an experiment for us. This has happened lots of times. If you know John's personal style he's a very t-shirt-and-jeans or even ganji-and-shorts type of guy. If you let him on his own, he will be in a t-shirt and tracks and chappals. So every time you have to give him something which is a little more dressed up, he would always cringe and say that why do we have to do so much. But sometimes, like especially Desi Boyz's second half, there were a couple of songs where there was a need to dress him up. So Rohit and I would sit and convince him, you know, that this look is needed. Now, every time when he came back from dubbing I got a message saying that I am so glad I listened to you. So it's at such times when you feel that it is all worth it. This is just an example I am giving you but I feel we go through this with every actor we work with. I have worked with Ranbir, I have worked with Katrina and Bipasha and atleast once this always happens. 9 out of 10 times it has worked but sometimes it doesn't so you take it in your stride.
Was it different styling John for Desi Boyz as compared to styling him for Force?
Oh my God, there was a complete change! He was a narcotics officer (in Force), very real, very grunge and Bombay street look. His color palette was completely different. He only wore shirts. John is such a good-looking guy, we had to tone him down in Force. The idea that Nishikant briefed for Force was that nobody should notice that this narcotics officer is such a good-looking man. So we had to bring down his appeal in Force, while in Desi Boyz we had to do the opposite – we had to up his fashion quotient, up his cool quota. Also John's body changed between the two movies. In Desi Boyz he is lean and well-built but in Force he was muscular and huge – he had some 19½ inches biceps. That kind of physique makes you work very differently. We shot back to back and it was very strange but the look for Desi Boyz and Force is very different.
So Desi Boyz, Force, Ajab Prem Ki Gazab Kahani, Dum Maaro Dum, which has been your most enjoyable work experience till date?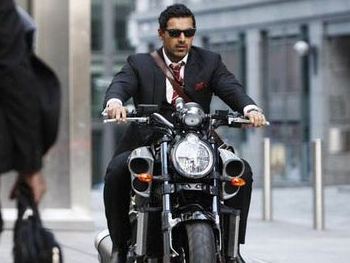 My favorite experience would be Desi Boyz because it was a really fun film and a really nice, young crew. And honestly, not one day of pain as Rohit and his team was so organized! But my most exciting film to do was my first film Ajab…I learnt everything in that movie with Santoshji. But Desi Boyz was definitely my most enjoyable. We would party everyday after the pack up. And like I said it was such a young crew that we had a lot of fun. In fact when we finished the shoot in Bangkok we didn't want to celebrate because we didn't want the movie to end .
This is Rohit Dhawan's first movie. How is he as a director? How was your experience working with him?
From the first day I met Rohit till the last day, every idea that he had he executed it the way he had decided and wanted to. Many times, a director decides on one thing but when he comes on the sets he tends to compromise seeing the fact that there are huge stars. He was involved in every department, be it arts or clothes to the T. I would say that he would be the biggest thing to hit the industry out of Desi Boyz. It might be a success for the actors but the person who is going to shine through would be Rohit Dhawan.
Thank you Shyamalee for talking to BollySpice.
Thank you.