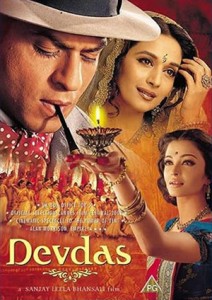 Die-hard romance lovers are in for a treat this August as Southbank Centre launches its Festival of Love. Bollywood cinema classic Devdas will grace the big screen on Thursday 21 August as part of the festival, which is a three week series of film screenings showcasing the best romantic stories in cinema.
Southbank Centre's summer 2014 festival will see hundreds of artists, communities and partners exploring the many different facets of human love – including romance and the breakdown of relationships. The Festival of Love will feature eleven screenings spanning various genres of iconic romantic films, from classics to musicals. This makes Devdas the perfect Bollywood choice for the festival, as it will be screened alongside nine classic romance films including, Brief Encounter with live orchestral accompaniment, Casablanca, The Graduate, West Side Story, Moulin Rouge, South Pacific, Sing-a-long-a Grease and Sing-a-long-a Dirty Dancing.
Devdas is the ultimate Bollywood classic and was selected for its rich romantic narrative and stunning cinematography. Indian cinema lovers now have the unique opportunity to see their favourite stars on the big screen once again. So don't miss the famous Dola Re dance scene, with Madhuri Dixit and Aishwarya Rai Bachchan perfectly executing Saroj Khan's captivating choreography. Watch the leading ladies of Indian cinema unite with the King of Bollywood Shahrukh Khan for this exquisite blend of romance, sacrifice and fabulous outfits – all set within the framework of the ultimate love story.
Devdas will be screened at Southbank Centre's Royal Festival Hall on August 17th at 7:30pm. What is even cooler is that audience members are encouraged to dress up as a favourite character from the film and join in the themed activities in the foyer from 6pm.
Here is just a sample of the beauty of Devdas!