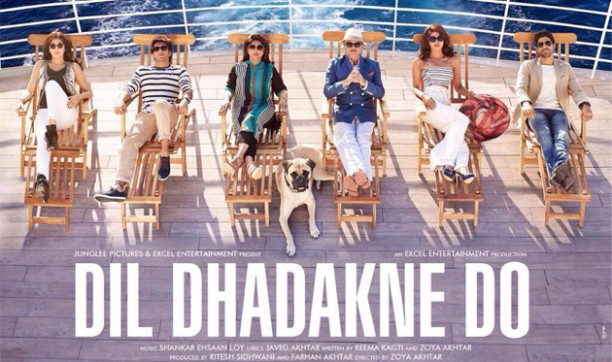 Family dramas have always been Bollywood's forte. The different dynamics in various relationships provide ample fodder for melodrama, emotions, conflicts and finally a happy ending – something which we all thrive on. Having been brought up on a steady diet of OTT Bollywood family stories, it takes something a little hakte to engross the current audience. Zoya Akhtar gives us a comedy-drama in Dil Dhadakne Do (DDD) about a Punjabi dysfunctional family on a cruise trip.
Although the Mehras are portrayed as a weirdly eccentric family, the characters could be anyone around us – neighbours, friends, relatives. Kamal (Anil Kapoor) and Neelam Mehra (Shefali Shah) are your typical upper middle class couple – he, boastful, proud, self-obsessed; she, trying to keep a façade of a perfect family. Their daughter Ayesha (Priyanka Chopra) is an independent self-made woman married to Manav (Rahul Bose), a 'pseudo modern' husband who, beneath all the layers, still believes in the patriarchal hierarchy. Their youngest son Kabir (Ranveer Singh) is the apple of their eye, the future of their company, although he definitely has his heart set elsewhere.
In the midst of all these suppressed emotions and unspoken accusations, the Mehras throw a long cruise party to celebrate their 30th anniversary. With Kabir falling in love with a dancer, Farah (Anushka Sharma) and Ayesha meeting her old friend Sunny (Farhan Akhtar) amidst some very calculative plans made by their parents, their carefully created bubble of a 'happily together family' does indeed burst.
Written by Zoya Akhtar and Reema Kagti, DDD gives us some really interesting characters and lovely scenes. Dialogues written by Farhan have a different humor style – surely they are nothing like ZNMD, but then again this is not a story of just youngsters either. At almost 3 hours, the film may seem a tad long, but with so many characters present, the film takes time to introduce the characters and for them to settle in. The confrontations between the different members of the family are brilliantly portrayed with small statements being made without being preachy, which is one of the biggest plus points of the film. Like the scene where after Ayesha states that she wants a divorce, the entire family holds a meeting to convince her to change her mind but the moment she talks about 'the pill', her father admonishes her for talking such things in public. It shows how Indian parents often forget the boundaries of privacy, but no matter what strata, sex will still be a hush-hush issue.
What really drives the movie are the amazing performances of all the characters – each actor has been perfectly chosen and given a proper character sketch for his/her role no matter how small. Anil Kapoor gives you a brilliant portrayal of Kamal Mehra and has definitely one of the best performances of the movie. Shefali sparkles as the suffocated wife Neelam – watch out for the scene where she drowns her sorrow silently with a piece of pastry. Priyanka Chopra and Ranveer Singh have an amazing sibling chemistry onscreen; Priyanka wins yet again with her Ayesha, letting her eyes and body language do the talking. Ranveer is a pleasant surprise as the kid with a silver spoon who has had enough with his parents dictating his life for him. It's a welcome change from his usually brattish Casanova roles. Together the four of them give us a different than usual Punjabi family with –thankfully – no sarson ke kheth and typical Punjabi humor. Anushka and Farhan play their supporting parts to the T as do the other actors – Zareena Wahab, Rahul Bose, Parmeet Sethi.
DDD manages to state a point which many Indian kids struggle to explain to their parents – that every relation in addition to love also needs space to grow. In spite of the faults, DDD will definitely manage to bring a smile to your face when you walk out of the theatre. Do watch.