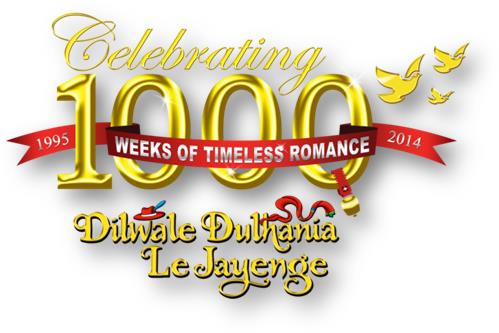 It all began on 20 October 1995 when Shah Rukh Khan and Kajol first passed each other and then met on that train that a legendary film and jodi was born. Dilwale Dulhania Le Jayenge aka DDLJ, Aditya Chopra's epic ode to love, is now kick-starting its 20th year of uninterrupted run at the iconic Maratha Mandir in Mumbai! The National Award winning film and fan favorite is the Longest Running Film in the history of Indian Cinema.
Since its release in 1995 this cult classic love story has won over the hearts of all generations for the past 19 years and is still watched by the youth even today, often playing to packed houses during its daily 11:30 AM show. The influence of DDLJ and its prem kahaani is so strong that it has in fact become a benchmark for all love stories!
On 12 December 2014 – DDLJ will complete 1000 historical weeks at the Box-office! As it enters its 20th year today, YRF is happy to announce that to celebrate the forthcoming inimitable milestone of DDLJ completing 1000 weeks of Timeless Romance on 12th December 2014, they are putting together several activities which will truly pay a compliment to, in Yash Chopra's words, a "phenomenon that defies explanation''.
Check out why we LOVE DDLJ: http://bollyspice.com/31014/a-tribute-to-dilwale-dulhania-le-jayenge
Stay tuned for exciting times ahead for a film that is still winning hearts worldwide!