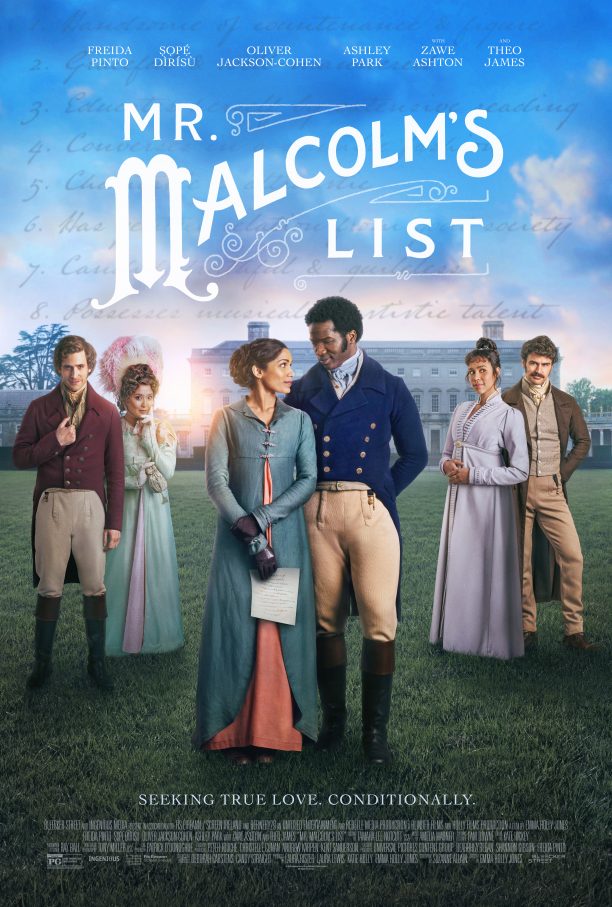 Mr. Malcolm's List a wonderful Regency-era film is in theatres now.
​When she fails to meet an item on his list of requirements for a bride, Julia Thistlewaite (Zawe Ashton) is jilted by London's most eligible bachelor, Mr. Malcolm (Ṣọpẹ́ Dìrísù). Feeling humiliated and determined to exact revenge, she convinces her friend Selina Dalton (Freida Pinto) to play the role of his ideal match. Soon, Mr. Malcolm wonders whether he's found the perfect woman…or the perfect hoax.
Directed by Emma Holly Jones, Mr. Malcolm's List is based on the novel of the same name by Suzanne Allain, who also wrote the screenplay. Joining in the dance of love with Zawe Ashton, Ṣọpẹ́ Dìrísù, and Frieda Pinto is a brilliant cast that includes Oliver Jackson-Cohen, Ashley Park, and Theo James. Also making their mark are Divian Ladwa, and Sianad Gregory, plus many more.
I was thrilled to have the opportunity to talk with Ms. Jones about this fantastic film. During our conversation, she shared her excitement at seeing her vision come to life on the big screen. As director, Ms. Jones could certainly take most of the credit for the movie. Instead, she is highly complimentary of the entire team. It is so interesting to hear her talk about the work of Kate Hickey, the editor, and Tony Miller, the director of photography. I want to thank Ms. Jones for taking the time to speak with me. I so enjoyed seeing her enthusiasm and passion. You will too!
Be sure to check out the rave review And the short but fantastic conversation with stars
Freida Pinto and Ṣọpẹ́ Dìrísù here.