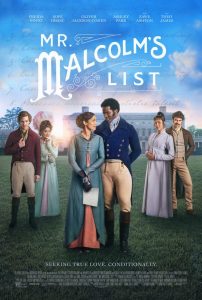 Mr. Malcolm's List portrays a slice of regency life with a dollop of an Austen-esque romantic sensibility, a tinge of an Oscar Wilde comedy, a bit of farce thrown in, and, of course, the longing to find true love. Steeped in the era, it is a perfect Regency film. But first, we must set the scene.
The plot: It all begins at the opera, during "the season", and a lady of good social standing is out with the elusive Mr. Malcolm. Julia Thistlewaite (Zawe Ashton) fails to measure up to a "list" of requirements for a bride and is jilted by London's most eligible bachelor (Ṣọpẹ́ Dìrísù). Humiliated and determined to exact revenge, Julia convinces her friend Selina Dalton (Freida Pinto) to play the role of his ideal match. Soon, Mr. Malcolm wonders whether he's found the perfect woman…
Directed by Emma Holly Jones, this fantastic film is based on the novel of the same name by Suzanne Allain, who also wrote the screenplay. Joining in the dance of love with Zawe Ashton, Ṣọpẹ́ Dìrísù, and Freida Pinto is a brilliant cast that includes Oliver Jackson-Cohen, Ashley Park, and Theo James. Also making their mark are Doña Croll, Naoko Mori, Divian Ladwa, Sianad Gregory, Paul Tylak, and Dawn Bradfield.
Mr. Malcom's List is interesting because we get inside the mind of the gentleman. Many times, in a Regency-era story, the woman's perspective dominates, with only hints of the man's thoughts and feelings. However, this film puts the focus on what Malcolm, a true romantic, desires in a match in the infamous list. The twist is that this list seems to portray that he has lost hope, not because he does not want to find love. It is fascinating to see this play out within the scene and scenery of the film. But, does he find his match? Well, we can't tell you that.
One of the surprising and best things about the film was the moments of comedy that caused literal laughing out loud, as indecorous as that might be. There is this wit and farce to it that is so delightful. A few of the lines, some of the reactions, and oh, Mrs. Gertie Covington – it just makes this film less staid than a tale like this might be. It is oh so enjoyable.
The costumes are exquisite, and though I am not a costume historian, I earnestly covet the Selene, Goddess of the Moon, gown.
The cinematography really puts you inside the story. With close shots and the choice of camera angles in the smaller rooms and set pieces, you are not simply watching – you are there, but just out of the frame, and that makes the experience so much more real. You are fully immersed. For example, at the ball, though it is not a rout, it is a significant ball nonetheless, and you feel as if you are only within the sphere of the main characters. You are dancing with Mr. Malcolm and Miss Dalton and feel every emotion. You are taken in, and it makes this film special. I have never felt like this watching a film before.
The entire cast is exemplary, outstanding, and flawless. I cannot imagine any other actors playing these roles.
Freida Pinto is fabulous. Though Miss Selina Dalton is of a quieter nature, she shines in her calmness. The twinkle Selina would get in her eye when she was watching her friend or "learning" to be the lady on the list. The look of surprise, hope, and eventually love that her eyes betrayed, because goodness knows she could not be forward as to say it, was brilliantly done. She spoke volumes in every scene. Her delivery was perfect, her anger real and longing so true. She was the ideal lady. I loved seeing her in this role.
Ṣọpẹ́ Dìrísù played Mr. Malcolm with the hue of a Mr. Darcy-like character but more earnest in believing that his actions were perfectly suitable. It was not pride but protection. His hauteur and disregard seemed in line with his position, but then the abject change, once he met Miss Dalton, was played brilliantly. His longing, his delight and hope, and eventual love poured out of him in looks and manner, though again very subdued because a gentleman does not let his feeling run away with him. His performance was fantastic, but it really came alive as Mr. Malcolm learned to hope and love. He is definitely swoon-worthy; that is a line almost everyone has on their list for a Regency hero. How he portrays Mr. Malcolm in his entire journey from closed off, to opening, to angry, to finally riding towards love makes his performance stand out.
Zawe Ashton is just a spark of light and zing on screen! From her first scene playing the coquette she thought would ensnare Mr. Malcolm, she is the epitome of a society miss, and it is superb. Then, the scenes of her plotting with that mischievous gleam in her eye, to the machinations she does, the words she speaks with the perfect intonation, you never ever doubt that she is the headstrong Miss Julia Thistlewaite. Her sadness and then her surprise show another layer to the character, and the actress again excels. Her character brings energy and the spice and many amusing moments. Again, I cannot imagine another actress playing this role so magnificently.
Lord Cassidy, as played by Oliver Jackson-Cohen, is the perfect foil for Miss Thistlewaite and friend to Miss Dalton and Mr. Malcolm. Oliver Jackson-Cohen's portrayal of Lord Cassidy is a regency shade of Bertie Wooster, if Mr. Woodhouse would allow, and it is so, so good. His ennui but willingness to help is another layer that just adds to the tale. His delivery of lines, his side-along looks, his demeanor adds another touch of farce and adds a lightness and grounding too. The film would be much less if he were not in this world.
Mention must be given to Ashley Park as Gertie Covington, the twice-widowed on the hunt lady, and you have to see her to believe her. As Gertie, she is ridiculous, vibrant, funny, loud, with a heart of gold, and she is perfect. Though she only has just a bit of screen time, she takes over and shines!
Applause must also be given to Theo James as Henry Ossory, the observer with perhaps a list of his own. Shout out especially to Divian Ladwa as John for his small moments that created a hilarious impact. He made me chuckle every time he was onscreen.
The only downside is that at times, the film seemed choppy, and that some integral or funny moments were left on the editing floor. The story moved at a frantic clip despite the calm demeanor of the two leads. It was a bit jarring. It left me wanting more, which is a positive I suppose.  Better that than wishing they had cut more. 
What stands out, in the end, is that everyone really has a list; it may just not be carried in a breast pocket like Mr. Malcolm. Miss Thistlewaite wants the perfect and most desired man, and Miss Dalton will settle for no less than love. Everyone has an ideal, and it may not be truly what you want or what you realize you need, but when you find the one that completes you, then you will get a happily ever after.
So, do they find the match to their list and love – because love does tend to stir things up a bit – well, you will find out on July 1st.
In the end, Mr. Malcolm's List, with its brilliant cast, is full of everything on my list that makes it an outstandingly entertaining Regency film. I say it is a must-see for all.
Do check out the fabulous interview with director Emma Holly Jones And the short but fantastic conversation with stars
Freida Pinto and Ṣọpẹ́ Dìrísù here.