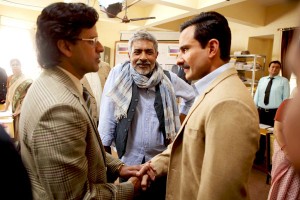 Mr. Prakash Jha is one of the most respected directors in Hindi cinema. His films are not the typical girl meets boy tales, they move beyond that genre by examining social and sometimes controversial topics. However, he takes these serious social topics down to a personal level, so we not only see the drama, the fight, and the epic huge crowd scenes, but also the fun, the romance, and the many intimate moments that make up a world weaves it all together seamlessly. Not only are moviegoers entertained, they are also challenged to think and care more deeply. For his latest film, Aarakshan he turns the lens on the controversial issue of reservation in the Indian education system. Mr. Jha brings this important social issue into focus by presenting it in a very personal way: setting the story in one school within one village. The film examines how the reservation system not only affects the principal of a school, but also how it affects his family, the teachers and the students. Mr. Jha says that at its broadest, it is a tale about the battle of India vs. India and the commercialization of education. In a fabulous in-depth interview, the director gives us a history lesson, what it is like to work with a cast that includes Amitabh Bachchan, Saif Ali Khan, Manoj Bajpayee, Prateik and Deepika Padukone, and what he hopes audiences will see in the film.
What Draws Him to a Project
Well, I mostly do movies which deal with social movements and social issues. The process is quite long and drawn out, because one keeps on observing how a particular issue takes shape over the years: what are its repercussions, individual stories and incidents? We go on researching, and eventually when we find a story, which is of human interest, then me and my team develop a screenplay. It often takes, you know, quite some time…sometimes, you know, running into 7…8…9…10 years! So, that's how all my movies are right from the beginning whether it is Damul or Mrityudand or Gangaajal or Apaharan or Raajneeti and now of course, this one Aarakshan.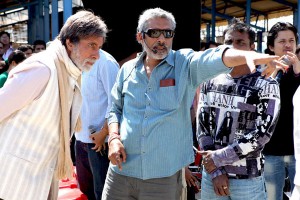 History Lesson on Reservation
It's something like Affirmative Action. We inherently have a caste-based society, which is that there are the Brahmins, the upper caste and then there are the lower castes and then there are the untouchables. When we got our independence, the writers of the constitution thought that it would probably be advisable to create equal opportunities for those who have been subjugated and oppressed for centuries on the basis of caste. They developed a formula where 22 ½ percent in all government institutions, higher education and job opportunities were reserved for the scheduled caste or the scheduled tribes. This was supposed to be a temporary phenomenon. It was expected that in 10 years or 15 years these people will be able to come into the mainstream and this whole effect or the need for reservation will peter off. But it didn't happen. In the 70's and 80's, a further reservation of 27½ percent was proposed for the other backward class. That created a lot of furor in the society, because for those who had the monopoly over education and the jobs, suddenly they found their seats reduced. There was a lot of pain – a lot of protest. The decision was even challenged in the Supreme Court, and dragged on for some time. In 2008, the Supreme Court gave its verdict and the reservation percentage increased to 49½ percent.
So, as it happens today, 49½ percent of all the government institution seats and jobs are reserved for the scheduled castes, scheduled tribes or the backward caste. This also has resulted in the development of the massive commercialization of education, because as the seats were reduced, competition increased, and it gave birth to coaching centers. Also capitation fees, which are when kids did not get admitted into government institutes, there were other institutions, run by private institutions, where you could pay money and get a degree.
Story of Aarkashan
This film deals with the status of education today. It's an emotional journey of a man who is principled, who believes in equal opportunities for everybody, and who is the Principal of a college where the principle of reservation doesn't apply. But he is compassionate and on his own, on the side, he helps students who are from poorer sections of the society. His clash is with the education mafia, which has taken education and made it a business. He knows only one way of combating it, and that is by teaching, and he begins to teach a handful of poor children. It catches the imagination of the city and he is able to fight the menace of commercialization of education.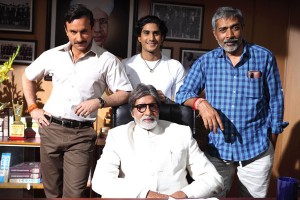 This film is about the rising India, which unfortunately has given birth on the one hand to a small section of people who have the money, who are able to buy into educating their children; and on the other hand, a large India which has the merit but does not have the money to be able to get the packaged professional education and still is languishing. There is a big divide between the two Indias and the film deals with that.
The Cast
My process of working with the actors is that once my script is ready, I have with them several, several, several sessions before we go for a shoot. I try and prepare them, inform them, and talk as much as possible about their characters. So, whether it is Mr. Bachchan or Saif Ali Khan or Deepika Padukone or Manoj Bajpayee or Prateik, they all go through these rehearsals and primarily they try and understand as much of these characters as possible.
Mr. Amitabh Bachchan
Well, Mr. Bachchan, of course, is a very, very professional actor. He's an inspiration because he is so hungry for his work and he encourages everybody. His punctuality and his dedication to work are kind of absolutely amazing. He's done a phenomenal character in this film. He plays the role of Prabhakar Anand, who is the principal of the college. Saif Ali Khan who plays the dalit in the film; dalit is an almost untouchable; but who is brilliant in academics, but nevertheless he carries the burden of being a dalit. When he is challenged about his identity he is disturbed. He wants to make Mr. Bachchan take some kind of position whether he is for the reservation or against the reservation. Mr. Bachchan is above all this and it creates a lot of problems. However, getting back to working with Mr. Bachchan as you asked me, it was a great experience.
Saif Ali Khan
When I told him that he was going to play the role of a dalit, you know, he was quite surprised because his background is from a very regal family, his education has been in best institutions of the world, and he was going to play the role of a deprived, underprivileged dalit. But see, I always had faith in him, because he is a hugely underrated actor. When he really prepares himself he is so into the character and he quite simply slips into the role. He's really done well in the film.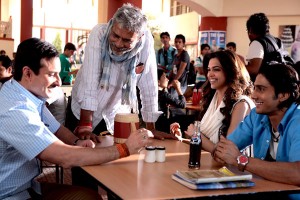 Manoj Bajpayee
He is brilliant. I worked with him before in Raajneeti. He plays a very negative, very dark character that represents the mafia of the education. He uses his position in the college to create a chain of commercial coaching institutes. He tries to commercialize the whole process of education. His conflict with the principal, Mr. Bachchan, and how Mr. Bachchan finds himself completely incapable of fighting this menace is part of this story. His character completely takes over the institute. It is a very dark character.
Prateik Babbar. I saw on one of the videos that you told him to touch his nose whenever he would get confused or nervous.
(Laughs) We had a lot of fun while we were shooting because we shot for a long 60 days schedule. Prateik is completely uninhibited in front of the camera. He is just a natural actor. He is playing a kid from a very privileged society who suffers. He couldn't get admitted in the school where he wanted to go because of the reservation of seats. So his angst breaks the friendship that he has with Deepika and Saif. Everything seems to go, but eventually he realizes the importance of Mr. Bachchan's principles. Eventually, he comes around, because the solution is not for or against: the solution is understanding the situation. The solution is eventually realizing that if the nation needs to grow it has to grow together. Growth has to be inclusive, and if we keep on surging ahead without really realizing what our neighbors are and, you know, what conditions they are living in, then it's not going to create an equitable society.
Deepika Padukone
All these kids are absolutely natural, professional. They prepare very well. Deepika didn't have the usual kind of glamorous wearing costumes part, which has been normal for her; she wore clothes that were more natural to that of a small town girl. She didn't wear any makeup or anything of that sort. She is very true to the character that we had written. She is going to surprise a lot of people.
The Music
The music in the film is very essential to the story because all the songs say a lot of what was actually meant to be said in the film. So, they not only enhance the story, they become a very, very essential part of my narrative. Prasoon Joshi has really taken the soul of the film and put them in all the lyrics. You might have heard of the one song, 'Kaun Si Dor', which is a classical song, and then there is the love song, there is a group song and then there is an anthem, which really represents the struggle of these underprivileged kids to come on and study and to come up to the merit and to make their mark.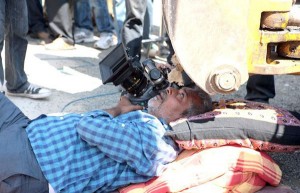 What he hopes audiences will take away with them after seeing the film
Well, they will take with them an understanding of what we are going through, because it's everybody's story. It's every child's story. In this country, it's every family's story that is struggling for educating their children, providing them with a future. It's become like a bubble. In this country today, education is very important to Indian children. The parents would go to any lengths to see to it that their kids have the best of education. I mean, they will starve, but you know, they will see that the fees are paid. This is what happens and this is where all these sharks will take advantage of this. Over the last 20-25 years, a whole parallel system of education has emerged in the country in forms of coaching, capitation institutes and private universities, and it has become very, very difficult for common children belonging to general society who cannot afford that kind of education. And this way you either have to be an engineer or you have to be a doctor, you have to be a manager and nobody is studying pure science or humanities these days. No one wants to study humanities. No one wants to study pure subjects. It's a pity; one can quite easily say that in a couple of years in India there will be no scientists.
Twitter experience
(Laughs) It's nice, you know, because in a moment, you know, you can connect with a whole lot of people. They have their opinions and you can know what they are thinking about. You can know how they are reacting to what you are thinking or what they are doing. It's great.
Social Media and fan clubs
It always helps, you know, because whenever you have a social subject on which everyone can have their own point of view it's important to debate. It's important to think and get engaged. All these social media definitely engage people, which I think, are very healthy and very good.
Talking with Mr. Jha was a wonderful experience. He was so open, so nice and so passionate about his film. With a cast full of stars, and under the direction of such an esteemed director, Aarakshan looks to be a film that cannot be missed. The socio-political drama opens in cinemas on August 12th! Watch this space because we have more exciting interviews from the cast of Aarakshan coming up!