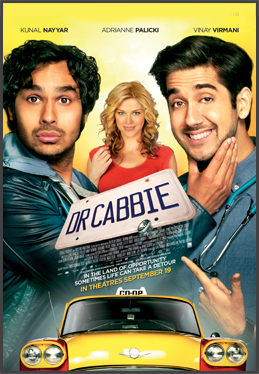 Dr. Cabbie is a Canadian romantic comedy starring Vinay Virmani, Kunal Nayyar, Lillete Dubey, Adrianne Palicki, Mircea Monroe, Rizwan Manji, Chris Diamantopoulos and Isabelle Kaif. The film is directed by Jean- François Pouliot and is Salman Khan's first international production.
Dr. Cabbie is the journey of Deepak, a recently graduated doctor who immigrates to "the land of opportunity" (aka Canada) with the selfless ambition of healing others while beginning a new life. Unable to find a job as a doctor, he starts working as a cabbie and becomes a local celebrity after delivering a baby in his cab. Deepak sees the opportunity to make his dream come true and converts his taxi into a mobile clinic. But his selfless ambition of healing others will lead to serious problems that Deepak will have to face in order to succeed.
Vinay Virmani (also writer and producer of the film) plays the role of Deepak. Leaving aside the issue of his Indian accent (which we'll leave to the discretion of the audience), Virmani does a correct job, but nothing more. Deepak is kind and naïf, but he lacks depth, a problem common to most of the characters in the film that results from a poor script.
Opposite Virmani, we find Adrianne Palicki in the role of Natalie, a legal assistant who works at a coffee shop after she got pregnant by her boss and he got her fired. As Deepak's love interest, Palicki possibly plays the most realistic character of the film, but the lack of information about Natalie works against her.
Tony is the opposite of Deepak. Loud and over the top, he is the comic relief when the film gets serious. Kunal Nayyar moves away from his role at The Big Bang Theory and offers a completely different side of him as Tony. But because of a simple script, the actor is wasted in a character whose main purpose in the film is to make sex jokes.
The long-promoted debut of Isabelle Kaif (Katrina Kaif's sister) comes down to four scenes and a couple of lines of dialogue, where she basically shows herself off, dances or makes out with Tony.
The rest of the characters are an endless list of stereotype embodiments: Deepak's boastful uncle and his Indophile white wife who sounds like a cheap self-help book, the drunk and womanizer candidate to politician, the loud Italian landlord and his chubby daughter, and so on. Half-baked characters who are absurd at some times and fail to look believable.
Dr. Cabbie is the typical comedy with some dramatic twists. The writers resort to all the typical formulas of this genre without introducing anything new. And they don't even succeed. Jokes are old and have been seen in many other films, and the plot twists are also predictable. With a team of producers that include Salman Khan and Vinay Virmani, the director's imprint in the film is practically nominal.
The film pretends to send a touching message about the hardship of qualified immigrants, but it suffers from a formulaic script and underdeveloped characters. Dr. Cabbie will make you laugh with some funny scenes but fails to leave a lasting memory among the audience.