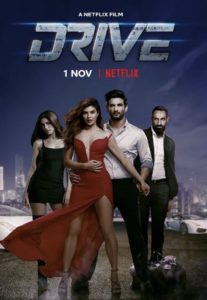 Sushant Singh Rajput and Jacqueline Fernandez are an odd couple, each playing very differing roles in recently released films. Nevertheless, this has not stopped Karan Johar bringing them together for the new Netflix release Drive, out on November 1. As the title suggests this one is all about the cars and getting them from point to point without missing a beat. Expect the soundtrack to be just as racy further backed by its music directors being Taniskh Bagchi, Amartya Bobo Rahut and Javed-Moshin who've employed a variety of singers across a short and sharp 5 song album.
The album opens with Makhna, featuring Yasser Desai and Asees Kaur on the track. This feels like the introduction track which gives everyone a chance to get to know the characters. That is to say that this track will be a background track, further backed up by the clip released on YouTube where its being used as a backdrop to all 4 characters travelling through what looks like Europe. Really nothing to be said for the song, its just there to give backdrop to some light-hearted moments being shared by 2 couples who all seem to be friends and so it does its job and goes into hiding.
Karma is most likely the ending song so unusually for most album arrangements it's the next song. 50s jazz, this song is all about how karma is a b***h. Within the lyrics are hidden a scathing attack on someone who is/has been prideful, with Jacqueline letting them know that they are about to find out why karma is this way. This is seemingly nothing more then a showcase song for Jacqueline as once again can be seen on the released Youtube clip. As a song however, its got a beat that starts nice but is so unchanging it gets dull even though the song is only 2 mins long and outside of singer Sukriti Kakar is lacking in any sort of pizzazz.
Prem Pujari has been put next in the album possibly just to create a diversion away from what has come before. On the face of it this is an interesting combination between traditional bhangra being remixed with synth. The lyrics for the most part are in classical Hindi that doesn't often get used in anything outside of religion, but still manages to feature "Everybody just say swaha". In hindsight though this is just a gimmick, as in the end it's a love song mixed into a journey song.
The album wouldn't be complete without a song directly referring to a car so next is Black Car. Javed Moshin gave the job of singing this to Suraj Chauhan, Shivi and Ariff Khan. Suraj Chauhan taking the rap break, Shivi and Ariff are left with a very simple and straightforward bit of misogyny roughly translated as "Black car,black glasses, now come on girl and get in". This is not the longest song on this short album, but it really needed to end sooner.
Finally, the album is wrapped up with what is likely the title song Tu Janta Nahi. This is just a straight-out rap bash with Parry G and Ceazer taking full effect of the opportunity to show off come considerable skills. The theme of the song is "Tu Janta Nahi mera baap kaun hai", which is a line that hopefully the film will give greater context to. If a playlist needed another short, sharp rap song there are a few other better editions performing the same task in recent years.
There may be a now traditional 5 songs to this album but at the end of the 15 minutes that it actually represents, there are no story hints and clues, no real ideas on what place these songs play in the film. Where songs are critical to the story arc, it is expected that listeners might lick their lips from the interesting titbits gained, but in this case that is not the feeling. If they are there to give cinemagoers relief from the story, then the songs are a little close to potential story events e.g. at some point there will be a black car involved.