I happened to watch Cocktail at an extremely crowded press plus crew plus family plus friends show. While you can read my official movie review, as I was thinking about the film some more I wanted to write about some of the other aspects that bothered me about Cocktail.  These  additional thoughts touch on some points I couldn't include in a movie review and summarize how Cocktail, which in my opinion could have been a good rom-com, was turned into a series of Bollywood's formulaic clichés, so much so that the gloss and glycerine could give the Indian TV soaps a run for their money.
But FIRST- I love you, Deepika Padukone! You've rocked the part of Veronica and HOWww! *wolf whistles* Have I declared that already???

I am tripping high on Veronica! Could do with another dose & bartender make that a double please!! #Cocktail @Deepikapadukone is HAWT & how!

— Pooja (@pooja1712) July 12, 2012
Also had to include this one too
@deepikapadukone Brava! You were beyond amazing in Cocktail! You made me cry! You were just so Veronica to your core and it was beautiful

— Stacey Yount (@Bollywriter) July 17, 2012
Now to the point or in fact points…
First, for everyone who has seen the movie, the common notion was that everyone was hoping in the end Saif would get the boot and the two hot DP's (Deepika & Diana) would hook up together (they almost did – wasn't 'nahi chahiye mujhko teri second hand jawaani' a cue for just that??!).  This could very well have been Dostana in reverse, including the very loud Punjabi mummy (played by Dimple Kapadia here) who gives kangan to her daughter in law as shagun! But no such luck, cause in a very formulaic ending, true love triumphs in Bollywood and everyone lives happily ever after….
Now this is quite ironic, because a day after the movie releases, our dear lead actor confesses to a major daily newspaper publication that in real life ending up with Meera would be rather boring. Oh Bollywood, pray do tell then why you inflict such boring scripts on thy audiences? Minutes into the movie just when I thought here is something different, a good case study of urban mature relationships, of effortless flirting, living-in, shot-glasses and just general bonding, true to the karmas of being Bollywoodized, the characters flip a 360, running to the nearest film library seeking refuge in all the possible escape routes Bollywood has mopped up in its rom-coms till date.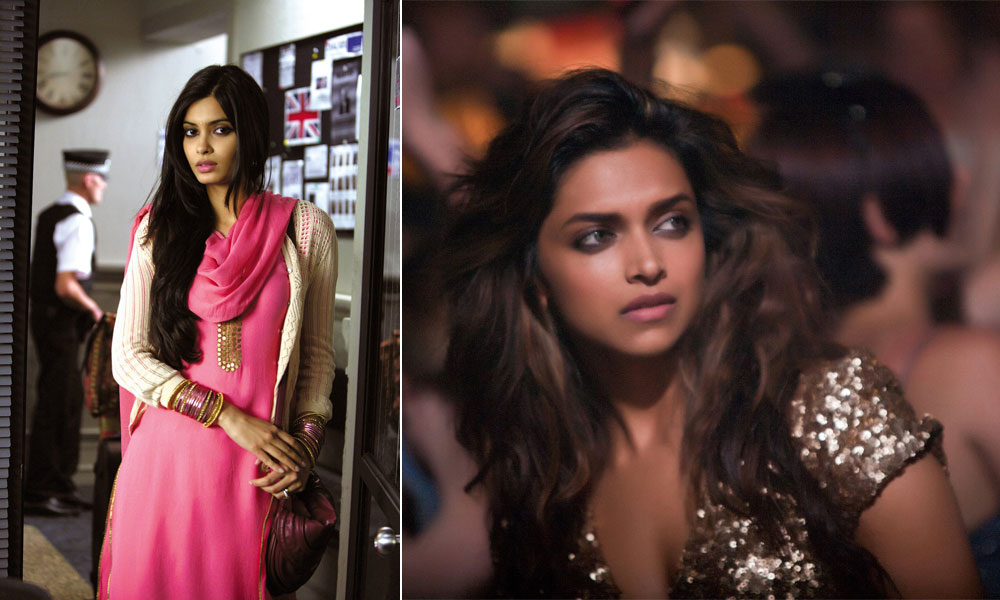 Here is where I will list some of them and we shall call it:
"Commandments of Bollywood – creating stereotypes, one rom-com at a time"
By Indian traditions, ladka chahe kitna bhi characterless ho, ladki toh usse dal-roti pakaane wali hi chahiye (Doesn't matter how much of a Casanova the guy is, in the end he seeks a girl who is homely)
Almost every girl has to choose between being a Veronica or a Meera. Former is a rich spoilt brat who can't keep her pants on, latter is the desi-clad demure who thinks it's the end of the world cause she was ditched in marriage. Yep! A balance between the two is an almost impossible a character to script in Bollywood.
How much ever a girl declares being fancy-free and a believer of no-strings-attached, what she ultimately wants is marriage and a man by her side. Which means she will (at the snap of fingers in this case) shed off her LBDs and don a red salwar (which the guy's mother will approve) and be the homely girl her man wants her to be!
Clueless, good-for-nothing, nonchalant guy is an almost perfect man who is always right in the end, while the feisty, strong, sorted girl will regret her doing and be proven wrong. ALWAYS.
Bollyspice has writers across the globe. Most of them juggle corporate careers/education while writing for Bollyspice simply out of love for cinema. Many of them are NRIs, who've lived away all their lives, connected to the homeland mostly by virtue of cinema. We decided to have their thoughts over Bollywood's obsession with typecasting its heroine leads into certain characters. Here's what they had to say.
The cool modern girl is always the one who is drinking, culture less, sleeping around, etc., etc. When in reality the modern Indian girl balances her culture/traditions, etc. along with the so called 'modern' practices of life. I'm yet to see a character like that. We either create a goodie-two-shoe like Poonam (Vivah) who gets made a lot of fun of by many viewers or we create a rebel like Veronica that the young cinegoers find OH SO COOL (log onto Tumblr and you'll know what I mean and see the love for Veronica and "why" she's been thought to be 'cool' and you'll see what I mean). I crave for the day we strike a balance between these two extremes. – Prathna Tiwari
Girls from London (or rather NRI's) are always portrayed as girls that drink loads, sleep around, etc., whilst the girls from India are the homely well behaved girls, which is not always true. Bollywood does not know how to portray a liberated woman realistically. Films like Namastey London, Mere Brother Ki Dulhan did have stereotypes too, however more recently there have been some more stronger female characters in films such as No One Killed Jessica. We have also had more female centred films such as Saat Khoon Maaf, The Dirty Picture.  I do feel that Bollywood needs to take a note from Hollywood though on how to portray powerful, modern women correctly! – Meera Sharma
Another stereotype that bothers me is that the sexually adventurous heroine is always Christian – Veronica in Cocktail, Kareena in Ek Main Aur Ekk Tu, Priyanka in Saat Khoon Maaf. Somehow being Christian seems to explain their 'lack of morals'. Also, there is more to a liberated woman than being only sexually liberated. I would use the term 'regressive' for the sexually-aggressive Paro of Dev.D, whose only purpose in life was to get married to the man she loved or the next suitable guy who came along. It sickens me that 'progressiveness' has come to mean Kareena's father asking her casually in EMAET if she has had sex with Imran yet. – Shalu Dhyani
We love our movies, for most parts of it but let's hope for our rom-coms sake, our directors take a clue, throw the rule book out and just let our bindaas girls be! Between the demure desi and the independent belle, we're sure there can always be a fair deal for everyone and they all find true love… if that is what they want!
We'd love to hear your thoughts, so do let us know in the comment box.
With additional contributions by Prathna Tiwari, Meera Sharma and Shalu Dhyani