Elegant, contemporary and streamlined silhouettes in beautiful pastels. This is what the audience of the Eid Shopping Soiree event were treated to at Raddison Blu Portman Square Hotel in London on the bank holiday weekend.
Bringing together Pakistan's most talked about designers, the event showcased the latest designs from five of the most celebrated couturiers Ammara Khan, Elan, Rozina Munib, Sania Maskatiya and Faiza Samee.
Flying down all the way from Pakistan, designers Ammara Khan and Rozina Munib were at hand speaking to happy buyers about their collections and sharing trend tips.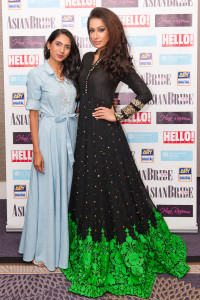 Organised by one of the most respected distribution companies, Hina Rasim, the Eid Shopping Soiree saw nearly 300 people flock in to pick up their favourite designer labels at affordable prices.
The event catered to the British Asian market that desires for something new, intricate yet practical, unique but not too much of a splurge during the Eid festival period.
Telling us about her lovely collection designer Rozina Munib said: "I have brought with me a collection that caters to every British Asian woman's needs, my casual Kaftan sets have been a super hit with the ladies at the event today".
Organiser Hina Rasim known in the industry as the most trusted stockist for high-end Pakistani labels in the UK said: " I have always been passionate about putting Pakistani fashion on the International map. I've put in a lot of hard work to make this event possible and it's amazing to see such a turnout, even though it's bank holiday weekend."