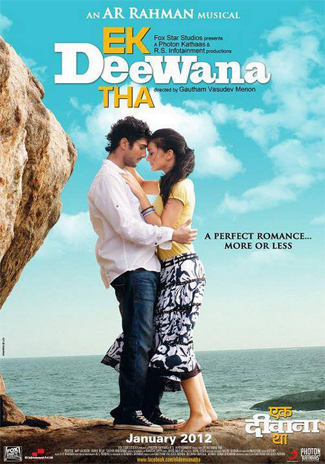 Love is the most simple and also the most complicated emotion. Complicated further by people and society. Which is why the simple boy-girl-meet-fall-in-love premise has been able to offer so many storylines to abundant moviemakers. Where there is romance, there will be those clichés, but it's the way these are twisted, decorated, wrapped and presented to the audience that makes the whole difference. Gautham Menon has been known to effectively portray complex human emotions and reactions and has given us some beautiful love stories in his movies no matter what genre: Minnale/Rehna Hai Tere Dil Main, Kaakha Kaakha, Vaaranam Aayiram. Having portrayed twice earlier, Gautham brings to you again the story of Karthik-Jessie from Vinnaithaandi Varuvaayaa –aka VV- (Tamil) and Ye Maaya Chesave (Telugu) to the north
audience as Ekk Deewana Tha (EDT).
Sachin (Prateik Babbar), an engineering grad student with a penchant for cinema meets Jessie (Amy Jackson), his beautiful upstairs neighbor. It's love at first sight for him as he keeps trying to convince her of his love. Jesse, although in love too, isn't too keen on going against her conservative parents and her dilemma keeps Sachin on the hook. So while our hero sings "Dil hote jo…Mere seene mein do, Doosra dil bhi mein…Tumhe deta todhne ko…", he actually keeps getting his heart broken time and again as the extremely confused Jessie can't decide if she wants to be with her love or with her parents. EDT has nothing original to offer in terms of storyline and mashes up all possible clichés…the pehli-nazar-ka-pehla-pyaar, the montages of stalking/pataofying, the ikraar, the caste issue (he is Maharashtrian Brahmin; she is Mallu Christian), bodyguard ready to fight brother, tiffs between the parents of the couple, you get the gist. Even if one forgoes the cinematic liberties a creative director is allowed, you just can't seem to ignore some very big, unexplained gaps in the story. The movie, it seems, is more about the characters themselves than their story as a whole and here Gautham Menon's storyline and Javed Akhtar's screenplay get weak. Sachin's characterization is stronger and one feels his first love excitement, his angst and frustration at Jessie's behavior and his steady love for her. Jessie, on the other hand comes out weakly sketched. Not your typical Bollywood heroine, Jessie could have been the normal everyday girl in love who faces a dilemma that many do – do you give up everything for your love, or your love for the happiness of your parents. Alas, she comes out as confused, a bit of a hypocrite and a wee bit annoying. The story doesn't give us much as to why she behaves the way she does and like Sachin even the audience feels like asking her , "What exactly is your problem, honey." Not that the original had a better storyline but the reason why VV worked so much for the audience was because of the sizzling believable chemistry between the lead actors, Trisha-Simbu,
Having watched Amy's lovely performance in her debut movie Madrasapattinam (Tamil) and Prateik hamming away in the EDT promos I thought I knew who would I like more and came out feeling surprisingly the opposite. Prateik is not the greatest actor around but he manages to charm you and give you smiles with his endearing attempts to woe Jessie; even with his dance attempts. In fact, he looks completely adorable! Sure he still hams in the more serious scenes but then the fact that he is working so hard – and mind you it does show on the screen – tends to make you a bit more forgiving. Amy on the other hand disappoints you as she remains incapable of portraying – probably handicapped by the script- the angst, the love, the unanswered questions, the unspoken words of Jessie. Not exactly the one to get into the nitty-gritty, I could not help but notice the ghastly makeup which kind of ruined Jessie for the audience further – what you see is a messy-haired, inconsistently tanned girl who just doesn't convince you as someone for whom Sachin could fall for at first sight. The chemistry between the two is clearly missing- just some sparks, no fire. After a point you just don't care what's happening to these two and want the movie to end as soon as possible. Manu Rishi – who has also written the dialogues for this movie – provides us with often the most entertaining scenes in the movie as Sachin's friend cum mentor. Sachin Khedekar, Ramesh Sippy, Babu Anthony, Vikas Menon, Ashiwin Kakumanu do justice to their roles. Samantha, who I absolutely adored as Jessie in Ye Maya Chesave, makes an appearance in the movie as the Jessie in Sachin's movie and is sadly wasted.
A.R.Rahman's music as always is endearing, although the lyrics manage to ruin them for you. Editing by Anthony Gonsalves could have been tighter – the movie tends to drag in the later parts. M.S.Prabhu's cinematography is good however one does feel that Manoj had done a better job in VV. Choreography is pretty average and the picturizations tend to distract you from this fact often.
EDT is not one of the greatest romances ever told. Nor is it an entire disaster. No matter which end you choose to watch the movie with, I am sure for all those in love, there will be things you might connect to –the silliness of first love, the wooing or the pain of one sided love. Go watch if you are an ardent fan of romance.