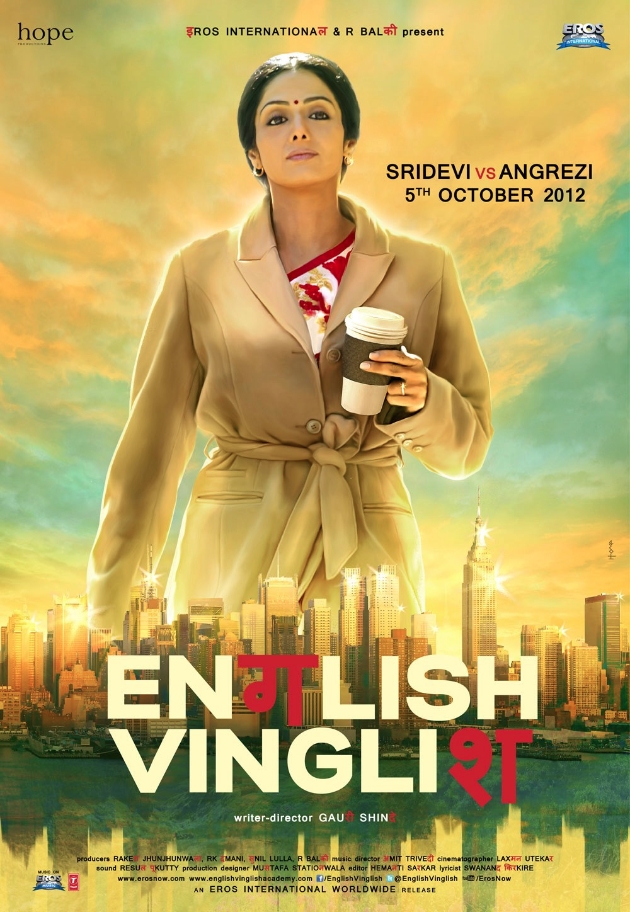 English Vinglish is Sridevi's return to the golden screen as leading lady. It is directed by debutant director Gauri Shinde and produced by R. Balki (Cheeni Kum, Paa). English Vinglish was premiered at the 2012 Toronto Film Festival, where Sridevi's performance drew a standing ovation and critical acclaim. So is this the comeback film of the year? Do R.Balki and Gauri Shinde deliver? Does English Vinglish live up to all the festival hype? Read on to find out…
Firstly a bit about the story and without giving too much away, you should all be aware by now that it is about a mother and wife, Shashi, played by Sridevi and her quest to learn English. You automatically expect many laughs and stereotypes along the way. However, English Vinglish is far deeper than that. Inspired by the director's own mother's experience, the film is about Shashi's journey, her insecurities, her challenges, her determination and her liberation.
After a 15 year hiatus and still remembered fondly for her last powerful performance in Judaai opposite Anil Kapoor and Urmila Matondkar, Sridevi ruled the late 80s and early 90s. After watching English Vinglish, you will thoroughly welcome her return. At 49 years old Sridevi still has it! Unlike her on and off screen, glamorous avatar, here she is presented as a simple down to earth mother. Her portrayal of Sashi is sensitive and uplifting, with Sridevi really managing to get under the skin of the character. Not once do you associate her with any of her previous roles or persona. As far as comebacks go, in comparison to Madhuri Dixit's comeback (Aaja Nachle) and Karishma Kapoor (Dangerous Ishhq), this is by far the best comeback vehicle – an author backed role, in a beautifully crafted film, which not only does justice to the actress herself, but also her fans.
All credit goes to R. Balki and Gauri Shinde. In line with Cheeni Kum and Paa, English Vinglish is as beautifully crafted as the earlier two films. All three films deal with poignant issues, yet present them with a near perfect balance of comedy, drama and emotion. You will laugh along with the characters and you will also be emotional with them, which draws you closer to the narrative and in this case Shashi's journey. Here full credit has to go to Gauri Shinde, who also wrote the story and screenplay. Without being too preachy, or overdramatised, as mentioned the narrative is perfectly balanced. With only a  2 hour and 10 minute running time, the editing is crisp and credit here has to go the Hamanti Sarkar. What is quite a simple and universal concept was written and edited so well, that it provided so many extra layers to the film.
This brings us back to the central concept of the film. Rarely do you get a film which can cater for such a cross section of society, without falling into any particular genre. Struggling in a foreign country to your own and with a language which is not your first, is something which is identifiable by so many. This is a film which you can watch with your parents and with your children. It is a film which is very Indian at heart, but so global in it's reach and one hopes it will find an equally global audience.
Gauri Shinde shines in her directorial debut. With a diploma in filmmaking from the New York Film Academy, she displays a fine control of her filmmaking craft, from the script, to drawing excellent performances from her cast, to the look and feel of the film. Unlike many of the Bollywood films shot in New York and abroad generally, Gauri manages to capture real middle-class, immigrant, diaspora life in New York.  Further, her characters and dialogues are real and unlike the cliches we have become accustomed to.
A special mention of the guest appearance and music. Amitabh Bachchan is an absolute delight to watch in a brief, but very comical appearance. I would rather see him in a dozen similar guest appearances like this, than the many average films he is often misused in. As for the music Amit Trivedi (Dev D, Udaan, Aisha) does a fantastic job. With no real scope for lip-synced songs, he does a marvellous job with the upbeat 'Manhattan', which really captures the beat of the city. The uplifting title track 'English Vinglish' and the fun 'Navrai Majhi'.
Overall an extremely praiseworthy film. Excellent performances, especially from Sridevi. A beautifully crafted film. One for the entire family and universal audiences. Easily one of the best films of the year! To the team of English Vinglish: encore, encore!