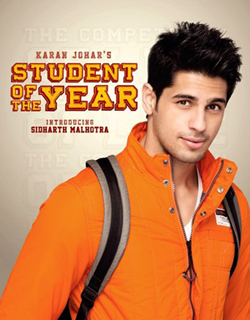 The reverse countdown has begun at Dharma Productions as the team gets set for Karan Johar's directorial Student of the Year to hit the screens worldwide on 19th October. In between interviews, magazine cover shoots, promotional events, brand associations, product launches, the team is making sure they're playing every trick available in cinema textbooks to ensure their students pass the big Friday test. We catch up with the trio at the launch of a celebrity magazine. In between all the frenzy surrounding them, Alia, Sidharth and Varun themselves appear calm. If there are any pre-release jitters, they seem to be putting up an assuring act to camouflage their nerves with pearly smiles, charms and candid bytes.
Swarming journalists call out for quick bytes, flashbulbs continue to click incessantly, but despite the chaos that ensues after the photo-shoot, it's easy to catch Sidharth Malhotra's eyes. He's attentive, very observant, he candidly admits. The PR rep interrupts and signals five minutes sternly, "How are you?" he blurts out. "You stole my opening line", I chide him. "There's so much happening right now, I don't know how I feel, but im excited and loving every bit of it", he replies calmly. With so much activity all around and the release around the corner his composed demeanor is baffling. Very unlike any other actor especially a newcomer, I point out to him. Leaning back, maintaining his Zen-like mode he continues, "Maybe that's the reason. It hasn't sunk in yet. We are all very nervous. It's bewildering when people throng to see you, they tell you how much they love us and give best wishes for the film. It's overwhelming and nice, very nice", he adds grinning at the surprised look on my face. How does so much sanity dawn on 20-somethings? "Life's experiences, I guess", he states matter-of-factly. "It's been a good ride of ups and downs since I came from Delhi. These past few years have taught me a lot, meeting new people, learning something new every-day, it's been full of pleasant surprises and though there are days that just pass by when you don't know how you feel or have time to stop and think, I wouldn't want to be anyplace else. Life's good".
Speaking about SOTY, Sidharth is happy with the reception it's received so far, but was it the debut he was looking for? "SOTY wasn't a planned move for me. I hadn't thought whether I wanted to debut with a rom-com, or an art film or a drama. It is all about films for me. After working on an intense film like MNIK, SOTY with its massive sets and glamorous get-ups was a whole different world. But everything just fell in its place beautifully and I couldn't have asked for more". In the same tone, he is all compliments for co-stars Alia and Varun. "We had a ball of a time. Since it was the first movie for the three of us, there were no reservations or insecurities. We'd laugh about each other's mistakes and be very competitive about giving our best shots. But it was healthy competition, especially when it came to winning Karan's praise" in the same vein denying that despite his co-stars being star-kids he never felt out of place. "That's' because Varun and I worked with Karan on MNIK before. So the team wasn't new to me, I was already part of this industry, it's just the roles that have changed' he explains. And the new role seems to be suiting him fabulously well? He grins, "This is what I came here to do. I always wanted to be an actor. Now that I have this chance, I just want to give it my best, there is no messing this up", he concludes earnestly.