Pakistani pop sensation Ali Zafar is a multi-talent, who made his mark in Bollywood last year with Tere Bin Laden. The 31-year-old singer-turned-actor graduated as a painter and started his career with modeling. Soon thereafter, he started his acting career with TV and eventually made his way into the music industry. Zafar rapidly became a Pop icon amongst the youth and was also referred to as the Prince of Pop in his home country.
He then moved on to films and Ali's performance in Tere Bin Laden not only brought him rave reviews but also praise from big names in the industry. Now on everyone's radar as a talented actor, Zafar then signed a movie with Katrina Kaif and Imran Khan called Mere Brother Ki Dulhan, produced by India's elite production house; Yash Raj Films. Ali Zafar is currently in London shooting his third project which has been titled London, Paris New York and is produced by Fox Star India. Filming for the project began in early August and the actor took out some time from his busy schedule to speak to us exclusively in London's Covent Garden about his struggle as an artist, his music, movies and his co-stars.
Welcome to London. What brings you here to this beautiful city?
I am shooting my next film here. It's called London, Paris, New York.
Who is starring in the film besides yourself?

Aditi Rao is the heroine of the film. She was in Yeh Saali Zindagi and will be seen in Rockstar as well.
You were a pretty big star before you even made it in Bollywood. Did you actually plan to break it into the Indian market with debuting as an actor in the industry?
Yeah, kind of. I had it in my mind that I wanted to explore Bollywood, acting and films. I did music for five-six year and sometimes then, you want to experience something different. I wanted to experience cinema and I have acted before too.
How did Bollywood films come to you?
Abhishek Sharma approached me through a common friend. He had seen my music videos and he liked what I was doing. That's how it came about.
You had support from big names in the industry during the release of your debut film. Karan Johar was promoting it, Aamir Khan tweeted that he liked the promos and Aditya Chopra praised your performance after watching the film. How did that feel as a newcomer ?
It felt really good. If you get that kind of a reception right at the start of your career, you can't ask for anything more. Also, Tere Bin Laden was not only a commercial success. It was also well respected and people loved the fact that this kind of a cinema was being practised. It would have been really typical if I had come up with a rom-com or a musical.
That's what you are doing now, as your second film.
Yeah, it was the second step. But for the first film to be like Tere Bin Ladenwas fantastic. All credit goes to Abhishek Sharma for having considered me for that role.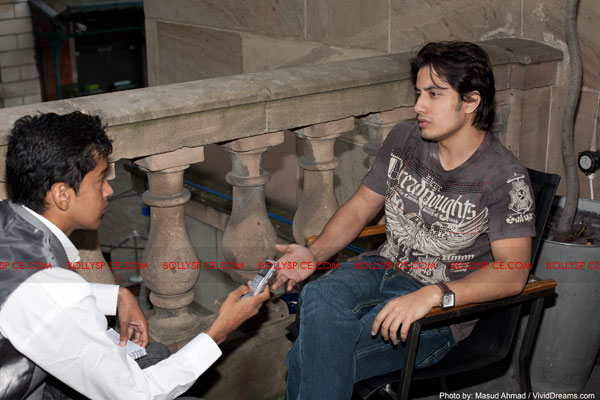 How did your next film Mere Brother Ki Dulhan come to you?
I was offered the film right after Tere Bin Laden. Ali Abbas Zafar, the director called me up and he thought that I would suit a role in MBDK after watching my debut film.
Do you like the title? Imran Khan does not like it and Katrina Kaif thinks it's perfect.
It's alright. I am not anybody to judge it. For me, the director and the producer are the best judge.
It's their project. We, as actors, are tools to portray a story. It's their creative decision. The film is a mass oriented film. It's not a niche film.
You are playing the "brother" in the film. What should we expect from you in this film?
There is a little bit of a surprise element in the film. I know that people are looking at it as a film about two guys who like one girl and fight over her. It's not that predictable. It has a surprise element that is revealed in the later half of the film. This guy wants to get married, but does not know who is the right girl. He sends out his brother to look for her. He is a little confused on what he wants. It's like a rom-com as a series of comical events happen.
Katrina told me that you are very talented. What do you have to say about her ?
It's sweet of her to say that. She was a very fun person and very convenient to work around.
She also told me that you would just break into a song at lunch break.
I don't like to waste my time. I like to keep inventing and creating stuff. I carry my guitar on my sets and everywhere. I am musician at heart. So, I am like a musician on set acting. The time that I am by myself, I keep writing songs. Katrina is wonderful person to work with. Also, otherwise she is a wonderful person besides being an actress.
There has been a lot of speculation about your so called "cold-war" with Imran Khan, the other lead of Mere Brother Ki Dulhan. Was it weird for you to read all these stories about yourself?
I have been reading stories about myself for quite a long time. But since I have come into Bollywood, I have been reading more of them. I am kind of getting acclimatised to the media, press and how things go about. I am getting used to it, but I don't let it effect me at all.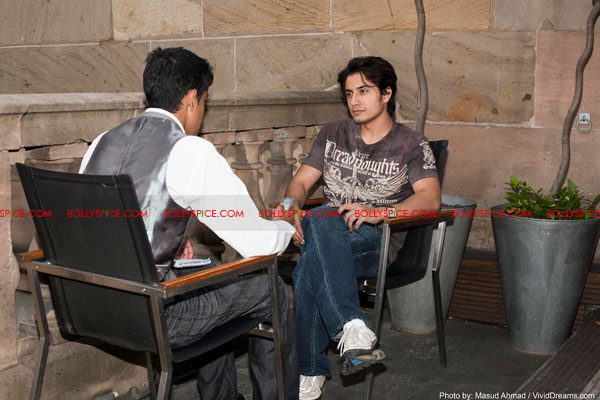 Do you wonder who "leaks" these rumours ?
I do wonder. But what can I do? After it was written, Imran was there at my birthday party too.
But do you not believe that there is no smoke without fire?
I don't know. I like to think positively. Even if there is something, I would like to think that the sky is blue and the sun is shining.
How was it working with Imran Khan for Mere Brother Ki Dulhan?
It was great. He is very comfortable to work with. He is just like a very regular, nice and sweet gentleman to work with. We would sometimes burst into laughter while we were shooting some funny scenes. While the lighting was being sorted out, we had to look at each other in the eyes. I would say something and he would start laughing. Sometimes, our scenes had to be stopped because we went into fits of laughter.
Do you think it's your luck or talent that your second film is with Yash Raj Films?
Both. I have worked very hard in life. Some people are getting to know about me now. But I have worked really hard for the last ten years as an artist, not just as singer or actor. I started working very early in life. I stepped out of my house at the age of eighteen, started making portraits at a hotel lobby. I got 500 Rupees per portrait. I made money through that and bought my keyboard from my first savings.
From there things started going upwards. Fame is nothing new to me and it took me a while to actually learn how to enjoy it. I enjoy the process more than the result. You know, for me, this is what is important when the film is being shot, that day, that very moment rather than what's going to happen when it will release. Is it going to be success or not, who knows?
Are you competitive?
Not to a destructive level. I would not want it to effect my happiness. I don't want to be competitive in a way that I want to be the number one actor and waste my energy, just thinking about it. As human beings, we are designed to be competitive. We all want to excel in life and do better than the rest.
I would like it, if I do well in life. For me just being famous, a film star, Bollywood and all that is not the ultimate idea of happiness. I think there are bigger things than these. I think, if fame was the pinnacle of the standard of happiness, then a lot of these big artists would not have died of depression.
I pursue happiness, not fame and money. If getting famous and earning money leads me to my happiness then it is ok. If it's the other way around, then I probably would not want to experience it.
What's your favourite song from MBKD?
'Dhunki' is nice. The title song is nice too.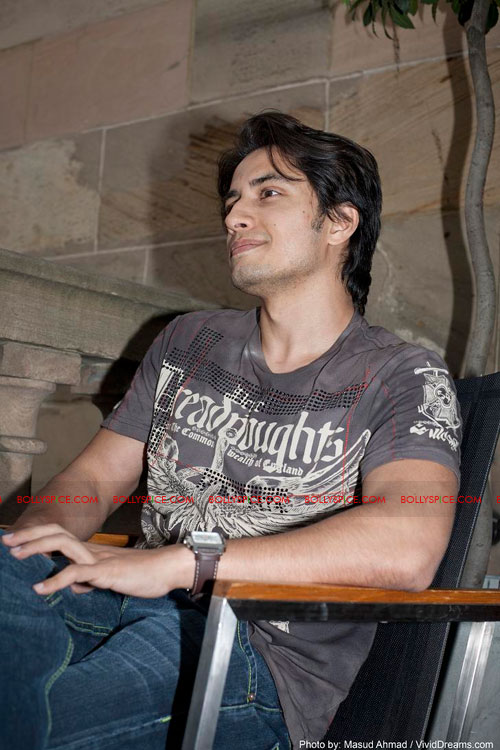 Do you not like your own song 'Madhubhala' or are you trying to be modest?
(smiles)I like my own song too. Yeah, I thought I would attempt to be modest. I like it because it has been composed and written nicely. In fact, there is a story to this. There was another song that was written and then one day, we decided that this song where everybody gets drunk and gets mad should be madder. The previous song was nice too and it has a nice melody by Sohail. But 'Madhubala', I thought if you want to go crazy then go all the way out like 'Khaike Paan Bana Raswala' or 'Jai Jai Shiv Shankar' and all those songs. When Irshaad Kamil wrote the lyrics, it was something I instantly liked it and I tried to sing it in a way that the listeners feel the joy.
There is a lot of news about a Premiere in London besides one in the UAE. Is that true?
Yes, that's right. I think Abu Dhabi is the 7th September and London is the 8th.
You sang a few songs for Tere Bin Laden and one for your upcoming film Mere Brother Ki Dulhan. Is this something that you will do with every film, that you will be a part of?
Actually, for London, Paris, New York I am also composing the music, writing the songs and singing them. You will see that in my future projects as well.
Your album Jhoom recently released under Yash Raj Music. How did this affiliation come about?
Well, since I was working with them on the film (Mere Brother Ki Dulhan), I spent a lot of time in the studios. I met Mr. Vijay Kumar, who heads their record label. I found him to be a very sweet gentleman. I told him about my album and asked him if he would be interested in it. He heard the stuff, saw the video and he liked it.
The songs on Jhoom are also very different from what you released earlier. Was that a conscious decision? 
Masti, I did 4 year back and Channo about 6-7 year back. You grow as an artist and that's what I think you should be doing. You should grow rather than being stuck in the same stuff. I grew as an artist and at this point of time, I wanted to experience a different kind of process of creativity. Actually, I wanted to do some serious stuff for quite a long time. My earlier albums were consciously commercial albums and this one was what I wanted to do. I also learnt in the process that some people believe that a commercial song has to be in a certain way and I think that we actually sometimes underestimate people's taste in music and their intelligence. I think, if you give them good music, be it any genre, any kind of a song, if it's good then they will like it and it will ultimately, become a commercial success too.
That is what happened with Coke Studio. We did something experimental, but it was good music. It turned out to be bigger than many commercial ventures otherwise.
Would you like to work in Hollywood if you were given the chance?
Yeah, why not?
You recently met Priyanka Chopra in London.
I would like to work with Priyanka actually. I think she is really sweet. I just recently found out that she sings too. I was very impressed and we had a discussion about music and acting. We talked about how she translated music into acting and acting into music. It was very interesting to find that out as I like people more who are practising musicians or play some instruments. I am prone to liking them more and feel more connected to them.
Are you planning to tour overseas anytime soon?
This season, I don't think so. I am focusing on finishing a couple of films and right now I want to act more than tour.
A message for your fans:
Just a very warm thank you to all these people who accepted me. I am thankful for their appreciation and I do it all for them. From the bottom of my heart, Thank You.
Ali Zafar's next Mere Brother Ki Dulhan will be released on the 9th September worldwide. Stay tuned to BollySpice as we will be bringing you all the action from the London Premiere which will be attended by Ali, Imran Khan and Katrina Kaif.
Photo credit: Atif Malik Studios