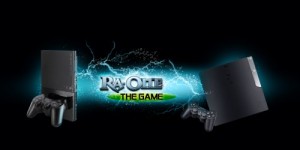 We recently told you about the exciting Ra.One: The Game that is going to be released later this year right before the release of the highly anticipated film. This past weekend while in Holland, Bollyspice got more exclusive scoop on the game from Shah Rukh Khan himself! Check it out!
In answer to our question about the video game, he excitedly answered, "Ra.One is the first movie in India which will have a playstation game to go with it. It's a fighting game. It has girls also, we even have two characters of Kareena in it, one good Kareena and one bad Kareena. It's a very interesting game. As a matter of fact, I saw it just yesterday. So I'll put some pictures on Twitter, so you can see it."
One of the things we wonder is did he reveal more than he planned…is there a good Kareena and a bad Kareena in the film? Hmmm.. we will have to wait and watch on that little fact!
BollySpice asked him further if the game would be available as a download or in stores as well. "It's a full DVD-set which will come out. And I think we will Inshallah release it in September in Berlin. I ask them if they can, cause we are having the release in Berlin. When I'll come down to Berlin, I might come down to Holland also to launch the game."
So if you want to know more about the game and the release, just keep an eye on @iamsrk on Twitter and on BollySpice.com!
Remember: You read it first on Bollyspice.com!
Here is a sneak peek picture from the Incredible India Festival event in Holland! More to come