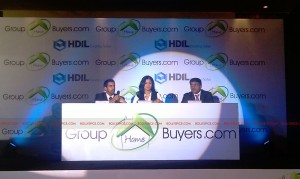 Shilpa Shetty is no stranger when it comes to Bollywood and business alike. Having moved on from movies to reality shows to entrepreneurship, Shilpa has now ventured into the field of real – estate making her indeed one of the multi-talented women present today. BollySpice talks to her about her latest ecommerce venture GroupHomeBuyers.com
Tell us something about Group Home Buyers and the areas which it will cover
We cover all over India including the metropolitan cities and we are also basing ourselves in Dubai.  Our USP is that we focus on group home buying which means that we get wholesale rates as brokers. These we give as an advantage to the buyers. That's where it makes us different from other real-estate based sites. Also the fact that it saves so much time and money and you don't have to go from on site to another; you can see whatever you want in whatever price range you want. You don't have to pay us brokerage despite the fact that that we are brokers. The added advantage is that there are so many value added goodies that we are giving you if you buy home from us.
Can you elaborate more on that?
There's home insurance, there is fire security….. there are so many that my God! I am forgetting the list! (laughs). There's fifty percent discount on home furniture. So if you are going to buy a home, the first thing you are going to buy is furniture, right? So whatever furniture you need you are going to get that at a fifty percent discount if you go via the direction that we give you. We have facility for home loan if for example there are more than ten people who want to buy homes at the same place then they can apply for a group discount or a home loan which reduces on your EMI or maybe you will get it down from 12 % to 11% – a percent less also means a lot of money. So there are many perks.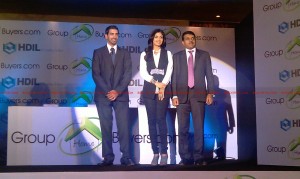 Have you tied up with any specific brands/ companies for these perks or will you be supporting any choice of the buyer?
We have tied up with specific companies. Like for furniture, we have tied up with a company called HouseFull – they are one of the largest home stores – as is the case with the other added facilities we provide.
The discounts definitely seem to be a major plus point for your site….
Absolutely correct! Discounts kisse acha nahi lagta! (Who doesn't like discounts!) Even I love discounts.  Wherever you are, whatever stage you reach in life, every one of us loves discounts. That is what life all about you know is – you want value for your money. It's not like people don't want to buy homes any more or there are less homes are been made. The fact is that the prices are hiked to such an extent, that the houses are not affordable for the lower middle class and the middle class people. So we basically become catalysts in making someone's dreams come true. The discounts are variable depending on the cost of the place; if the place costs around 50 lakhs then maybe we will be able to get that place at around 45 lakhs. With this 5 lakh discount you also get the value-added goodies for around 5-6 lakhs which I feel is a lot of money.
As one can see from your site, the target audience seems to be the middle class and the lower middle class……
Yes, lower middle class, middle class and upper middle class.
So are there any constrains as to who all will be accepted as clients by Group Home Buyers?
Well, they have to be reliable. So after we do are due diligence only then will we accept them. If you go to the site and see, you will notice that atleast 40 people have enrolled but that doesn't mean that all 40 will get to buy- right now they have shown their interest in buying. After that we will do are due diligence as to how many of them are serious, you know, and how many of them are actually interested in going ahead and buying the home. A lot of them are curious as to how this will work; we obviously are here to deliver and we need just maximum 5-10 people to enroll per site.
How did you get involved with Group Home Buyers?
Well, a very dear friend of mine Hem Tejuja who is a 50% partner in this with us was talking about something like this. And my husband and he kind of put their brains together and they came up with something really interesting – first time where home buying has become so accessible and easy through the net considering that India has almost a 100 million internet users. So we thought that this would really work in today's market where there are so many people wanting to buy homes and there are so many builders who are ready with homes and not able to sell. So, we become like the catalyst.
The middle class still distrusts the media of internet where it comes to real estate considering their hard earned money is at stake….
Well, the fact is that there are a lot of buyers  who find it extremely cumbersome to deal with builders.  Like for example my own P.A.  who had a tough time finding her place- she had registered and paid the amount but had still not received the final form from the builders and she didn't even get the floor she had registered for. So, these things happen you know. So we are people who will obviously be there for those who want to buy a home and who don't have time to go to ten different places to buy one. You can go and scout for places through the net and whichever place you zero in on you will get the chance to buy it. We will fix up the meeting with you and complete our side of the broker aspect of it. Then it is left up to you whether you want to go ahead and buy it.
So what exactly is your role Shilpa in this venture?
It has my name involved so obviously I am a 50% partner . I was really excited about the project when I decided to come onboard. I really believed that there is a need for something like this in our country and people need it. Making money and making it a viable business is all okay – that eventually we would – but the greatest factor was the chance to help people. Also we have taken up the initiative of Green cause – every time we sell a home we will be planting ten trees. So the bigger picture is that it is a social cause for me as well which is somewhere hidden in the all too visible business aspect!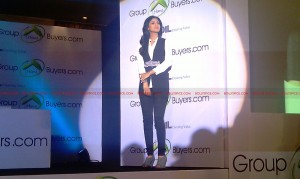 Do you miss the silver screen?
I do miss the camera! Yes, I do miss being part of films but this is a break I truly needed for myself, you know. I have been working really long since the age of seventeen and I have enjoyed every minute but priorities change when you get married and you have to do a balancing act. It becomes very difficult to become a full time actress and you cannot be a "part-time" one. So I decided that I will become a full time entrepreneur  and a full time wife and I will get back to movies when I am able to give it my entire time.
But how come a total deviation to real estate. Why not some business in your field of expertise – the entertainment world. Do you think that fact that you are married to a businessman has influenced your decision in some way?
I am…I am. That's the next step forward. Can't make any announcements now, but that will be my big one soon! I am definitely concentrating on my production and you will be very happy to know that I will be making a film announcement soon once all the casting credits are ready.
I am born into a business family. I did commerce and I always told people that you can't forget the fact that I am a Shetty (laughs) – the business people! But I think that getting married to Raj has really given me the confidence – he encourages me. So even if I didn't want to do anything before he motivates me to do new things. And the best part which I love is that I get to learn new things. You cannot restrict your knowledge to just one field. You have to broaden your horizons and that is what marrying a businessman has done to me.
Are there any more business ventures from your side or are you going to take it one step at a time?
Whatever I have done I have don't it I am convinced about it. It started with the yoga DVD – me producing  and distributing it. Same is the case with my Spa business and the service industry. Even the IPL is something which I enjoy. So every venture I have been a part of has not been like a business for me , it's something I really enjoy.
Thanks Shilpa for talking to BollySpice.
Thanks a lot.